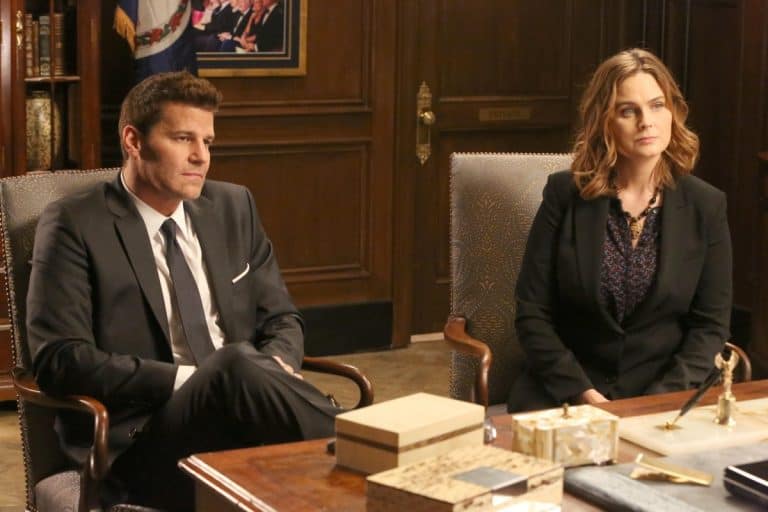 It appears that fans of the long-running drama Bones will have to wait a bit longer before saying their good-byes to Dr. Brennan and Agent Booth. Just days after announcing the new fall line-up for 2016, FOX reported yesterday that they would be making a few minor changes.
Bones, which stars Emily Deschanel and David Boreanaz, was intended to air its 12th and final season Thursdays beginning in the fall with a shortened twelve episode season. Now, FOX will be airing the brand new drama Pitch in Bones' slot. The series is about the first female to play in Major League Baseball and will pair nicely with the World Series airing on the network in the fall.  Bones will most likely get a January premiere date and air through the Spring. This season Bones took a four month hiatus before returning with new episodes in April. There are six episodes that are slated to air, which means the procedural will be airing new episodes well into June unless the network decides to air double doses of the series to burn them off during the next few weeks.
Another change from FOX's original line-up is the return of Prison Break. The drama was going to air on Thursdays at 9 P.M. in the spring, but will now be making the switch to Tuesdays at 9 P.M. Bones has recently found a home on Thursday in the current schedule, so that could explain this change.
Bones premiered on FOX on September 13, 2005 and is loosely based on life and novels of Forensic Anthropologist Kathy Reichs. The series success peaked back during season six when it finally cracked the top 30 most watched shows on network television with 12 million viewers. Today, the drama averages 7 million viewers.
Are you upset that you will now have to wait until 2017 to watch the last season of Bones? Let us know in the comments section below.
Photo by: FOX