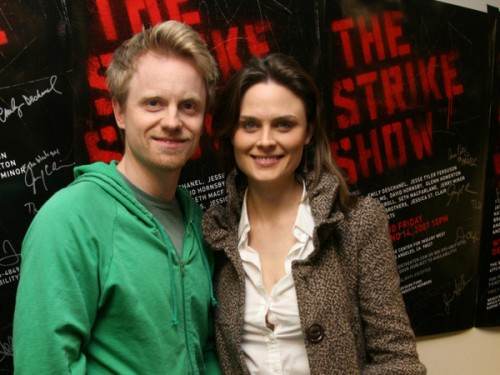 No word yet how this will affect the relationship between Temperance Brennan's relationship with Seeley Booth.
Bones star Emily Deschanel, who has portrayed protagonist Temperance Brennan since the show's genesis in 2005, has revealed that she is expecting her first child. According to CBS News, the 34-year-old actress confirmed this fact to People Magazine on Thursday. Deschanel's husband, David Hornsby, is probably best known by comedy fans for his work as a producer for the FX series It's Always Sunny In Philadelphia, where he also plays the severely messed-up priest Rickety Cricket. Hornsby and Deschanel have been married since September 2010.
The real question for most Bones fans, though, is how Deschanel's pregnancy will affect next season. It really seems unlikely that they'll have a pregnancy storyline so soon after this season's Hodgins/Angela baby storyline. We could see a more sidelined Brennan, relegated to sitting behind desks a la Scully in The X-Files. There are many possibilities, of course — though the pregnancy may not even not affect the show at all. It'll all be about scheduling, though I somehow don't think that the writers will write the pregnancy into the story, though doing so would be an interesting choice indeed.
Bones, currently in the middle of its sixth season, will return on April 7 with the episode "The Feet on the Beach." Until then, keep checking back to TVOvermind for spoilers and other Bones news, such as a preview of next week featuring pretty nasty exploding corpses.