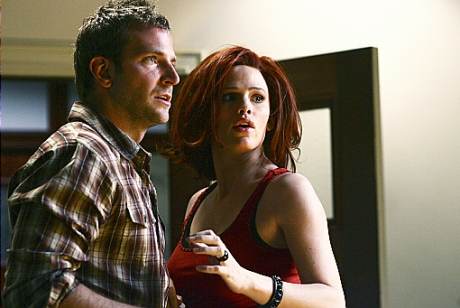 Bradley Cooper looks to be on the verge of becoming a huge movie star. This Friday sees the release of Limitless, his first major project that boasts his name as the title star and will see if he can sell a film on his own rather than part of an ensemble cast like in He's Just Not That Into You and Valentines Day (it also stars the little known actor Robert De Niro). Speaking to the New York Times this weekend his roots in television were discussed as part of what has helped him become the star that he is today.
Cooper played Will Tippin in Alias for two seasons and became more than Sydney's (Jennifer Garner) reporter best friend, when asked about Cooper show creator and producer JJ Abrams responded
"Originally Will was on the outside of what was going on in Sidney's life, but it became clear that Bradley's range went far beyond sidekick. We realized we needed to bring him into the main plot."
The character of Will went from being a nuisance who threatened to expose Sydney's double life in the first season who fans of the show weren't too impressed by to a character that was sorely missed when he left at the end of season two. His guest appearances in the later seasons of the show and particularly in the 100th episode ("There's Only One Sydney Bristow") were received with welcome arms and showed that Will Tippin was a character that became a fan favourite, much of this was down to Cooper's charm and chemistry with Garner. He is obviously not too hard on the eye either and as the New York Times piece points out
A common thread uniting nearly all of Mr. Cooper's performances is that his characters have been defined by ample smoothness and sex appeal. Even portraying a journalist on Alias he peeled off his shirt in the very first episode, flaunting a physique more Muscle Milk than Murrow.
He is however more than just a pretty face and is rather versatile, going from playing the sweet best friend in Alias to the alpha male douche in The Wedding Crashers, and striking the mid point of these two characteristics in the film that most certainly put him on the big movie star radar; The Hangover. If Limitless doesn't perform particularly well all should not be considered lost for Cooper who is reprising his role of Phil in The Hangover Part II, coming this May and is likely to be a box office smash. It looks like Bradley Cooper will be set to be the headlining movie star it was clear he could be back when Abrams cast him in Alias.