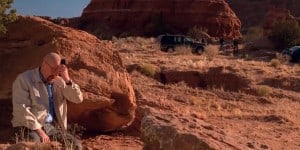 Breathless. That's the only word that can truly describe how I felt during the final 20 minutes of this week's Breaking Bad. From the moment Walt received the picture of the money right up until that explosive firefight that certainly has to claim the lives of Gomez and Hank, I left my living room sofa and was transported inside of the scene; I was there, with Walt, Jesse, and Hank in the desert, and I couldn't take my eyes off of all the craziness that was occurring in front of me. Based purely on those final 20 minutes, "To'hajiilee" would definitely take a spot in my book as one of the best Breaking Bad episodes of all time, but there was also a lot of great stuff that happened before Walt received that angry phone call from Jesse and was tricked into coming to the desert, so let's talk about it all.
This week's Breaking Bad opens with Todd, his uncle, and their gang of white supremacists being chewed out by Lydia for their cooking. While Todd has gotten the meth's purity up to 76%, it doesn't have the blue coloring that makes the product so famous; as Lydia tells him, the blueness is all part of their "brand."
Todd and his uncle's need for better cooked meth and Walt's need for someone to "take care of" Jesse coincide, and Walt, even though he states how he is "out of the business," agrees to cook one batch for Todd only after they do their part and kill Jesse. "No suffering," Walt tells them, as he calls Jesse "family," believing that there is no way that Jesse could be a rat, and we see that while Walt has twisted and manipulated Jesse in absolutely every direction that there is still a love and friendship that exists on some level, even if it cannot override Walt's own greed and selfishness.
Unfortunately for Walt, however, it's this compassion for Jesse that leads to his own undoing in the episode's final moments. Since Walt believes that there is no way that Jesse could have ever turned on him, no matter how angry or upset he is, Hank is able to collaborate with Jesse and create a plan to manipulate the great Heisenberg, the master manipulator, into confessing his crimes over the phone and finally giving them the physical evidence that they need to take him down for good.
How do Jesse and Hank decide to go after Walt? They go after the thing that Walt cares about most: his money. From its inception, Breaking Bad has always made it clear that Walt began cooking initially to leave behind money for his family after he died, and while Walt obviously fell deeper and deeper into the darkness of the drug business, it was still his ultimate goal, as we have been reminded of this season with the supposed return of Walt's cancer, to leave behind enough cash so that Skyler, Walt Jr., and Holly could live happy and comfortable lives.
Therefore, after Hank and Gomez discover that Walt has buried his money in barrels somewhere out in the desert, they do not need GPS coordinates to find the exact location. Instead, they trick him with a fake picture of the cash (as we later find out it was taken in Hank's backyard, "right next to the BBQ," where they used to cook and spend time together as family, he tells Walt) and a threatening phone call from Jesse, and Walt does the rest, leading Hank, Gomez, and Jesse straight to the only thing that still matters to him but also one of the only things that could ensure his arrest. The entire sequence of Walt speeding down the highway in his car, shouting at Jesse to please stop, attempting to justify every crime that he's committed is masterful work of tension. We know that this is some sort of trick or plan against Walt, but we don't know how or what is going to happen next, and each second, as Walt becomes more and more frantic, we, the audience, do as well. Simply put, it's amazing television, and it's what Breaking Bad has consistently been doing every week in its final episodes.
Finally, we have the entire scene in the desert, which takes Breaking Bad's normal amazing quality and notches it up even higher into what I would certainly call perfect television. Everything about Walt's defeated surrender to Hank (the superb close up shot of Hank slapping the cuffs on Walt, Walt's growl of "coward" toward Jesse, followed by Jesse spitting directly in Walt's face, and Hank's joyful call to Marie that he had finally gotten his man, that he finally had Walt) is absolutely phenomenal, and it's so expertly crafted that if Todd and the white supremacists hadn't shown up to cause even more craziness in the end, that I could have seen this as a fitting series ending to Breaking Bad.
However, we know that there are still three episodes of this amazing series left, and with the episode's conclusion, the terrifying arrival of Todd and his uncle's gang, fully armed with huge guns and not ready to step away and leave their potential cash cow of a meth cook behind, we also must know that Breaking Bad still has some great, suspenseful drama that it's waiting to unfold for us. Man, waiting for the next episode is going to make this week the longest week ever.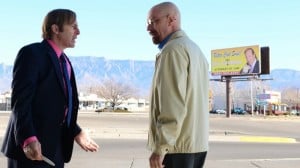 Other thoughts:
- Loved the small but important detail of Jesse calling his former partner "Walt" over the phone for the first time, instead of "Mr. White." One word carried so much weight in that scene, and even though everyone will want to talk about Walt's arrest or the firefight as the biggest moments from this episode, understandably so, this tiny exchange was just as big as those two moments for me.
- One moment of comedic relief during this episode: Saul's appearance at the car wash and Walt Jr.'s reaction to him. Also, I loved how Saul described what happened to his face as an "occupational hazard," and that his parting words were "Don't drink and drive, but if you do, call me!" So good.
- Amazing performances last night from everyone as usual, but Bryan Cranston really stole the show again. Cranston's acting, along with Aaron Paul's, is what elevates Breaking Bad's great material into something even more brilliant, and last night, the look of defeat and also relief on Cranston's face as Hank arrested Walt was some phenomenal non-verbal acting.
What did everyone else think of last night's Breaking Bad?