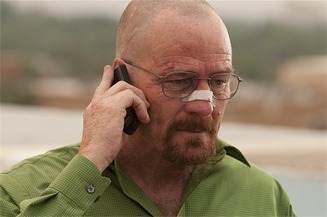 Well, here's a surprise for you: Vince Gilligan doesn't know how Breaking Bad will end. The creator and head writer of the beloved AMC drama admitted to Today that nothing is set in stone for the fifth and final season.
"Wish I did," he admitted. "I have certain hopes and dreams for how the characters will wind up, but I don't have anything nailed down plot-wise."
That's surprising news to me. If any show on television has given the impression of momentum and direction, it's Breaking Bad. The story of Walter White has been a tragedy of Shakespearean proportions, with his well-intentioned efforts to leave his family a nest egg have resulted in the loss of not only his connection to his family, but his connection to his own humanity as well. "I've lived too long," he lamented in the season 3 episode "Fly," and his life has only gotten bleaker since then. Season 4 featured his protracted face-off with distributor Gus Fring (Giancarlo Esposito), and the lengths that Walter went to in his battle against Gus resulted in a new low for him.
Gilligan is adamant to end Breaking Bad after its upcoming fifth season, though: "It's been the best job I've ever had, and I suspect I'm going to look back on it with a great deal of nostalgia. But after 16 more episodes, it will be time to end it all. It was always intended to be a finite, closed-ended show. You have to know when to hold 'em and when to fold 'em… The closer we get to the final episode, I assume the worse it'll be. But that's why we're ending after 16. You want to go out with fans of the show still being fans. The best we can do is be disciplined and honest in our storytelling, and not go for the bells and whistles. Let the chips fall where they may."
Breaking Bad will air its fifth season sometime next year.