Cigarettes, ricin, and a revelation were much discussed buzzwords following last week's episode of "Breaking Bad." Both fans and critics alike discussed how much Jesse Pinkman's awakening to the knowledge worked and didn't work for them stressing over the inherent value in either character believability or plot believability. If one were to have waited three more days and were happening to be on the channel FX at 10pm then they also would have caught another TV's show attempt at a big revelation. The show in question is of course "The Bridge," and what I find so interesting about its big reveal of who the "Bridge Butcher" was is how unsatisfying it all felt. Now, there are still five episodes left of "The Bridge's" first season. That gives the show plenty of time to make this revelation much more interesting and meaningful. But my trust in the ability for this writing staff to create a memorable ending for this show has increasingly waned as the season has gone on. Unlike "Breaking Bad," this show set itself up from the beginning with a core mystery that will be investigated and probably solved. "Vendetta" solves the mystery, but doesn't solve the problems "The Bridge" has been making since the bodies were found in the shows pilot.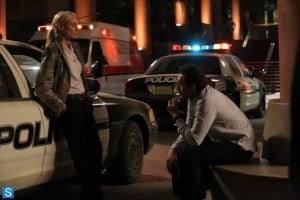 While other minor things happened in this week's episode, most of this review will dive into what worked but mostly didn't work in the unmasking of the killer. Earlier I mentioned that there are two forms of believability: character and plot. Jesse's revelation in "Confessions" made sense in both forms but really swung more in the direction of character. As a viewer following the plot it was hard to understand at first how he determined what had occurred with the switching of cigarettes. Once I had finished the episode and thought it over, it made perfect sense to me given what Jesse as a character was going through and I fully bought it. Not only was it believable, but it meant something to us as a viewer because the revelation involves characters we've come to either loathe or love. It was a gripping moment as the viewer is placed in Jesse's shoes. The revelation in "Vendetta" on the other hand was believable when pertaining to plot, but it doesn't inform us in any significant way or give us much insight into our characters' mindsets. Sure, Det. Ruiz is shocked and panicked over the revelation, but that's all it is: surprise. Like the show itself, the revelation is hollow. Giving us nothing to really feel or think about in any meaningful way.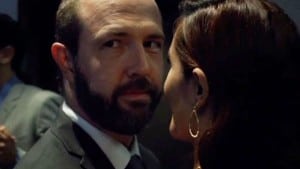 When one looks at how much time is given per episode for the creators of a show like "The Bridge" to make us care about what's happening, it's just incredibly disappointing to see that this is what they come up with. "The Bridge" isn't being hindered by production value, acting, or studio control. It's being weighed down by shoddy framework on the part of its writers who feel as long as things are in motion that it must be interesting. This should never be the case for any form of storytelling, especially one that takes as much time to consume as TV does. I know this may look like over-analyzing but it's not. When one really studies an episode of "Mad Men" or "Breaking Bad," they find every gesture, prop, clothing, piece of music, mannerism, and line being read to be important to the story being told because if it's not then it shouldn't exist. "The Bridge" has had way too many moments that shouldn't exist. Could these moments that don't feel purposeful come back to have relevance? Sure, but if they are a slog to get through and aren't emotionally or intellectually engaging at the time then why bother.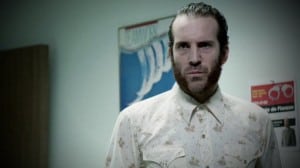 Is "The Bridge" the worst show in the world? No, but the shows so bland that it might as well be. There are so many better things we could be doing than watch this show. We could watch a film that changes the very way we think, read a novel that lets us see the world from a whole new perspective, or just go outside and experience life in any way imaginable. Even if "The Bridge" amounts to something more in its next few episodes, I won't be there viewing it. Life is too short to give my attention to those who waste it with aimless plotting and unattractive character development. If there's one thing "The Bridge" has left me with, it's the sense that we can always strive for more. Not just in what we watch, but what we do. Maybe the creators of "The Bridge" failed at making an entertaining and thoughtful drama, but that doesn't mean we can't learn from their mistakes. I might not remember a character, scene, or even a line of dialogue from this show ever again, but I will remember the reason why I don't remember. And to that, I bid you adieu.
Novel Notice
- My review's a little late, sorry, but I recently moved into a new space and finding an available TV and/or internet service has been a little hard.
- Thanks for following my reviews; I hope these won't be my last for this site, even though this is my last review of "The Bridge."