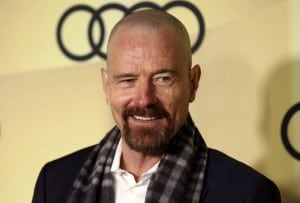 Who doesn't love Bryan Cranston right now? Heck, we reported this week that even Anthony Hopkins thinks Bryan Cranston is the man. The problem is, now that Breaking Bad is over, we can't really get our Walter White fix anymore. Truth is, he may have only been gone a week so far, but it feels like much longer. But there was a respite for people watching the baseball game on TBS last night.
It may have only been one screen grab during the Cardinals Dodgers game last night on TBS, but for us Bryan Cranston fans, it was just what we needed. Buzzfeed sports posted the screen-grab to their Twitter account, and it pretty much sums it up. It may be simple. It is just Bryan Cranston standing with his wife looking really tense in the stands at a Dodgers game. But for those of us who think Cranston is the man, it is just nice to see him up and about again. Sorry, some of us can't separate fiction from reality, so we kept waiting for Jesse to pop into view, but that just doesn't happen. It really is just Bryan Cranston cheering on his Dodgers.
Still though, imagine being at the game and looking to your left and seeing Walter White? We cannot even fathom how cool that would be.