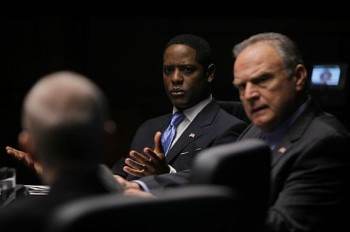 The Event has make a quick and undignified fall from its once promising ratings. Though its premiere episode, "I Haven't Told You Everything," garnered a respectable 11.19 million viewers, it quickly dropped almost 4 million viewers within two episodes. Yesterday's episode, "Your World to Take," clocked in at 5.19 million viewers, a series low.
A pretty good marketing campaign was undertaken for the series, which unfortunately just wasn't as useful at retaining the viewers lured in by the campaign. Now, I watched the premiere, and it was good. There simply wasn't enough to keep me coming back. I can't really explain it, except that perhaps I, like the rest of the TV viewing public, is sick of event television. Or, rather, television that claims to be an event. Particularly, one titled The Event.
Maybe it's the bad taste that FlashForward left in our mouths. After all, it was supposed to be the next big show, wasn't it? The Event marketed itself in a much similar way, and, unfortunately for NBC and the show itself, things are looking bad. TV by the Numbers is putting The Event at a pretty high cancellation risk level:
After heavy promotion this Fall, The Event ratings started well out ahead of the cancellation bear, but its ratings kept falling, to just a 1.7 its last two weeks (three weeks including last night's preliminary ratings). Now, NBC's new mid-season schedule has The Event taking an extended hiatus until February 28. Any similarities that the cancellation bear sees between The Event and last season's Flash Forward are not coincidental.
The ironic thing about it is that The Event's average number of viewers is still fairly high. It's cancellation index is estimated at just below the already-renewed 30 Rock and just above Law & Order: LA. "Its early season ratings were so high, and it has fallen so far, so quickly," TV by the Numbers stated in its article. "Its average has not yet caught up with its current ratings situation."
Whether or not NBC will renew or cancel The Event is still up in the air, but things are looking glum for TV's latest alien invasion.