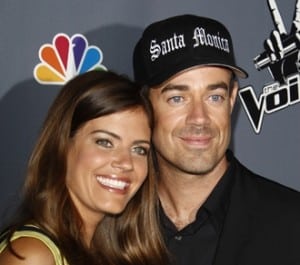 Carson Daly is one of those people whom whether you know it or not has been in your "pop culture" life for well over twenty years now. Sort of blows the mind to think of it like that, but it's true. From his long run hosting TRL on MTV in the 90′s, to his run of his late night talk show, Carson Daly has been doing his thing for quite some time now.  It seems after all these years he is finally ready to settle down.  He is now just getting ready to marry longtime girlfriend and famous blogger, Siri Pinter.
Daly, who has two children with girlfriend Siri Pinter (first time I have ever actually heard the name Siri used outside of an iPhone), who is a food blogger, is hush hush, but it seems Siri was recently seen wearing an engagement ring on her finger.   Also, there are people close to the couple who have told insiders that they do plan to wed but are not giving anymore details to the public than that. TV Guide has more on the story.
So we offer a congratulations to this couple on the news of their engagement, and props to Carson Daly for maintaining his role in the public eye for almost thirty years now. We wish him thirty more.