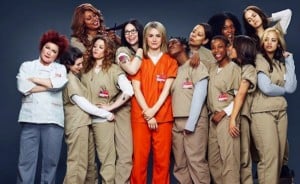 Who WASN'T blown away by Orange is the New Black this year? The show, detailing one woman's experiences in lockup, was absolutely absorbing, and outside of Breaking Bad, easily the most talked about show of 2013. Well, as great as it has been so far, it seems show creator Jenji Kohan sat down with TV Guide recently and worked out some of the smaller details for season two. Mainly, if change scares you, now would be a good time to take your meds.
There was a big rumor that Piper's love interest, played by Laura Prepon, would NOT be coming back to the show, but it seems Kohan only hints that she will be back, though we just don't know for how long. There are also rumors Jason Biggs may be off the show as well, and if both her love interests are gone, what does that say about Piper? It seems we should expecting to see less of Piper next season on Orange is the New Black, with an emphasis on it being more of an ensemble show with us learning about different characters each week.
As much as the idea of the spending less time with Piper on the show makes us sad, if that means we get to spend more time with Crazy Eyes, this could be a great deal of fun, and we won't judge it until we can just see how well it plays out, which we won't find out until Orange is the New Black returns in 2014.