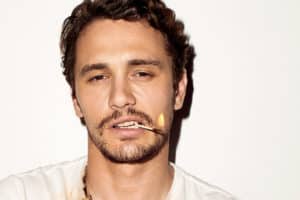 Actor James Franco is an interesting person. No one is really sure what side of the fence he falls on. Is he one of those "stoner comedians" who does silly stuff and seems to win over all of America with his antics? Or is he a serious thespian, writer, professor, and director, who is looking to further the medium of film by challenging it to be more art-like? It is all dependent on what side of the fence you see him on. And whereas I see him as more the latter, for me, the roast of James Franco is an amazing thing. It is just nice to see a guy who, all too often takes himself too seriously, lightening up and being able to laugh at himself. Well, last night, he had no choice.
So I will now refrain from mentioning any of the jokes that were spoken on last night's Comedy Central roast of James Franco, but I will tell you, NOTHING was sacred. From Franco writing books and teaching classes, to him directing these art house films very few of his colleagues actually enjoy, it was nice to see him getting lambasted. Keep in mind, for a Comedy Central roast, this was very high caliber. This was not the usual roster of c-list comedians looking for work. No, this was the superstars you have come to associate with Franco, and in many cases, they were just saying what many of us were thinking.
And HUGE props to Seth Rogen as roast-master. Not only did he seem comfortable and natural, his stream of jokes were consistently hilarious and well-written. It can't be easy to be the "funniest guy" in a room full of brilliant comedic minds, but Rogen did an amazing job of never stuttering or losing his momentum. And Franco looked like he was out of his mind, Pineapple Express style, which must make it way easier to laugh when a room full of your peers are tearing you apart, one by one.
Overall, it was tasteless and utterly hilarious, so make sure you check out it out.