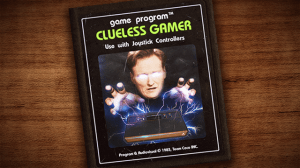 Have you watched any of the Clueless Gamer bits from Conan O' Brien? If you are a gamer, you have no idea on the amazingness you are missing out on if you haven't. This late night comedian admit he knows little about games, and stinks at games, so who better to give a game review segment to? The thing is, these bits end up being nothing short of hilarious, because Conan  is not exactly a gamer, and for that reason,and his genuine reactions often end up being hilarious. And anyone who has ever played classic Atari knows, these games are not good. Leave it to Conan to show us that in a whole new light.
This is one of those things that my words will do little justice. Just watch it.
What makes this so effortlessly funny is that, even those of us who remember these games fondly because we grew up with them,we still know those games stunk. They didn't stink at the time because we had nothing to compare them to, but now, and in hindsight, they were awful games. Well, not Pitfall, but all the others. And it is really funny to see Conan struggling with them, and ultimately making this train wreck a fun one to watch.
Is it silly? Yes. Mindless? Yes. Hilarious? DEFINITELY.