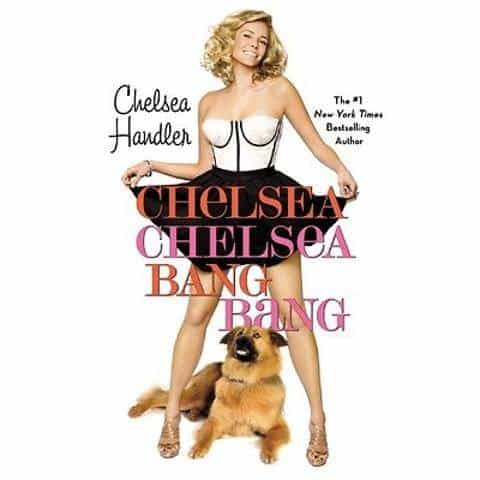 After Lately, Chelsea Handler's mocku-series, will be returning for its second season on E! on November 27 at 11pm. To celebrate the new season, TVOvermind and E! are giving away a copy of Chelsea Handler's book "Chelsea Chelsea Bang Bang". Here's E!'s description of the new season:
"In addition to the show's witty cast of characters, the upcoming season is packing some major Hollywood star power when many of Chelsea's famous friends pop by the 'Chelsea Lately'offices to the delight – or dismay – of the crew. Sharon Osbourne and Jiffy come to blows over an email; gal pal Jennifer Aniston tries to stay out of the middle when the staffers keep a secret from Chelsea; Dave Grohl gets spooked when he thinks someone in the office is twitter-stalking him; Chris Franjola and James Van Der Beek have a fashion throw-down; and Reese Witherspoon is back again — but this time the tables have turned. Also making an appearance on the series is Jay Leno, who plays tough with Josh Wolf.
In the season premiere, Brad puts his foot in his mouth (again), and unwittingly insults a woman with Autism at a book signing. Through a chain of events, the news of the insult spreads like wildfire and gets back to Chelsea and her good friend and Autism advocate, Jenny McCarthy, both of whom are outraged by Brad's idiocy. Meanwhile, Franjola has a blind date and finds out that the gorgeous woman he's out to dinner with, and is lusting after….might just be his daughter. In true fashion, Chelsea is there to ridicule him each step of the way."
Entering the contest to win Chelsea's book is easy! Here are the details:
Email me at clarissa @ tvovermind.com with the subject line "Chelsea's Book". Please include your name, city & state/province.
The contest will run until 5:00 p.m. ET on Sunday, November 27. The winner will be randomly chosen and contacted by email. The winner will be asked to provide his/her full address and E! will mail the prize.
Contest is open to readers in the continental United States and Canada.