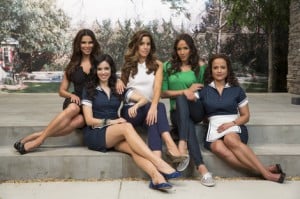 Do you enjoy the Lifetime show, Devious Maids? Well, boy, do I have some good news for you. The adult soap opera about a group of maids with far more power than people think based solely on what they overhear and see as the maids to a rather lascivious but well-known family has just been renewed for a second season. So get your gossip ears ready, because you know stuff is only set to get steamier and more wild in their world.
What most may not know in glancing at show is it is the show with the fastest growing ratings of any show ever on Lifetime. Considering how many shows have come and gone on the Lifetime network, that is impressive, and it was with that knowledge that they decided to pick up a thirteen episode second season run, hoping the popularity of this Telenovela adaptation starring Eva Longoria will continue to peak.
So what can we expect for season two of Devious Maids?
Good question.
I bet there will be more shady dealings and most certainly cheating and lying. More things overheard that have no place being overheard. More examples of the higher class thinking they can get away with anything they want, and the maids around to remind them that they are the ones who really hold the power in this situation. It will be overly dramatic, which the best in this genre always are.
In other words, good looking people doing terrible (and terribly entertaining) things.Just what we love about Devious Maids. And it looks like we will thirteen more episodes to love next season.