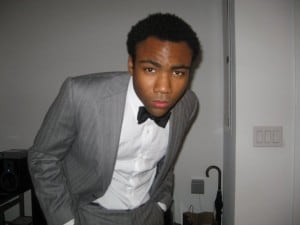 Most Community fans were sad to hear Donald Glover (as Troy) was leaving after five episodes next season. And A lot of people were wondering why (not so much after the terrible season four). While there has been talks for him to have his own music based comedy show called Atlanta on FX, it seemed he wants to focus on the music aspects of his career. Or in making long, meandering short films about nothing that hipsters will love, which is just what he did.
It is called Clapping For The Wrong Reasons, and it is, well, odd. We see Donald Glover do a lot of hipster stuff, but you keep kinda waiting for it to go somewhere, and it doesn't. Perhaps that is the very reason it exists. Though there is a short "internet version", this is the "director's cut" and we thought we should post it to see what you cats think about it. Good?
Bad?
Weird?
All three of those?
So what did you make of that?
So THAT'S what Donald Glover has been up to in his silence and exile in the last six months. Okay, so it wasn't exile, but no one had heard anything from him and the world was becoming curious. Well, Clapping For The Wrong Reasons is probably bound to only make them more curious.