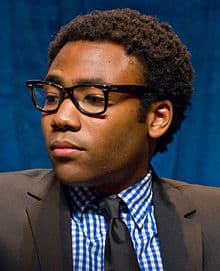 Thanks to TV Line, we learned today that one of our favorite Community cast members, Donald Glover, who IS leaving Community next season, has inked out a deal with FX for his own musical based comedy show. Do you even understand how happy this makes us? We are HUGE Community fans, and his character of Troy, the dumb but good-hearted jock who loves pop culture, was one of our favorite aspects of the show, so to find out he was leaving just as Dan Harmon was coming back killed us a little inside. Now we find out he will potentially be doing his own show, with music as a big part of the comedy, and we would be lying to say we weren't excited.
So the show, tentatively called Atlanta, will use that city as its backdrop, centering a bit more focus on Donald Glover's REMARKABLE music skills. For those who have never had the opportunity to see one of his live shows or hear any of his music, just go check this out here. As you can see, he has some serious chops as an MC, and the dark video shows us a whole new level to what we know of Glover. But don't expect that kind of darkness on Atlanta, we just wanted to show you what he could do as a performer. No, thankfully, Atlanta will be a comedy show, but just what kind of humor and how much music integrates we will not know until more details on this project emerge.
Either way, no matter what he ends up doing, we are just glad we will still be able to get our weekly fix of Glover, even after he leaves Community. But seriously, even with Harmon coming back, can you blame him for leaving? Did you SEE last season?
Eek, it's best we never speak of THAT again. In the meantime, we eagerly await Atlanta, and are curious to see just how it highlights some of Glover's OTHER remarkable talents.