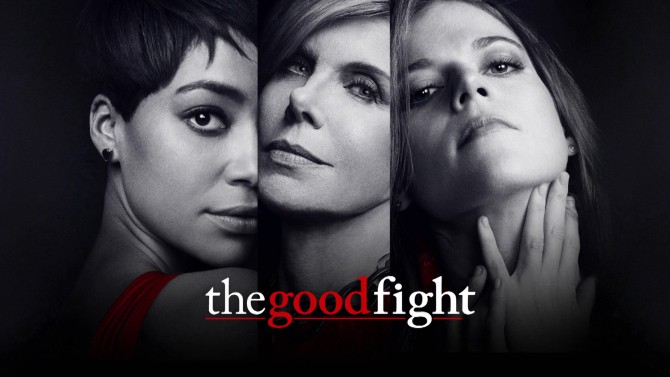 The Good Fight started off as a spin-off idea for The Good Wife to extend the life of character Diane Lockhart. Now the show is heating up, with episodes about to air on CBS All Access almost exclusively. We're also finding out more about what The Good Fight will look like in terms of characters and a basic outline of what's to come.
So far, we know that The Good Fight will begin a year after the events that ended The Good Wife. Fans of Game of Thrones will be thrilled to know that Rose Leslie will play a central character, as Diane Lockhart's goddaughter, Maia. Maia Rindell joins Lockhart at Stern, Lockhart, and Gardner right before a financial scandal lands at her feet. The scandal forces both women out of the firm and threatens to ruin them in the process. They end up going to work with Lucca Quinn (Cush Jumbo), and that is the premise behind The Good Fight.
Other notable names and characters include Delroy Lindo who plays Adrian Boseman, a lawyer who starts stealing Diane's clients, and Bernadette Peters, who is Lenore Rindell, Maia's mother and a co-owner of a powerful investment firm. This is just some of what you can expect with The Good Fight.
Where Can I Watch The Good Fight?
Looking to watch The Good Fight? The first episode will be available to all on CBS at 8 p.m. ET on February 19. This episode can be watched with a digital antenna if you don't have cable. This is the only episode that will air on network TV. All additional episodes will be available solely through CBS All Access.
CBS All Access is the place to Watch The Good Fight
CBS All Access offers 80% of the country live streaming, but if you're just trying to watch The Good Fight, the live streaming option won't matter too much after February 19. In addition to a live stream option, CBS All Access offers on-demand access to all their currently airing shows. These shows offer, at minimum a few episodes and, at most, the full seasons. They also include a library of classic shows for those interested. This year they will also release, along with The Good Fight, a new Star Trek series exclusive to CBS All Access.
CBS All Access works on gaming consoles, Chromecast, Roku, Amazon Fire TV, and other streaming and mobile devices, so there is no shortage of ways to watch The Good Fight with CBS All Access. Prices are affordable, too. If you don't mind a few commercials (less than what you'd get with the actual CBS network) the monthly cost is $5.99. Otherwise, the no commercial plan is $9.99. Both subscriptions come with a free one-week trial. You get a limited amount of content compared to something like Netflix, but it's also content that you can't find anywhere else. And for just a few dollars a month, if you want to watch The Good Fight, the price is certainly worth it.
While most shows are available through streaming and on-demand options, it looks like the only way you'll be able to watch The Good Fight is with CBS All Access, so you'll need a subscription if you plan to watch!
Save