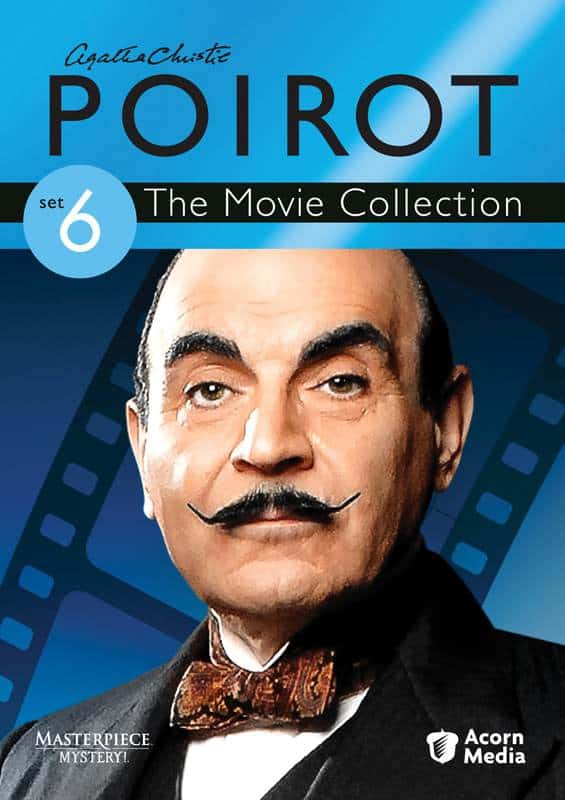 Agatha Christie's Poirot is simply classic. We all know Poirot, played in a chameleonic turn by actor David Suchet, is an entirely mercurial character, entirely different from the milder Jane Marple from Christie's stories. Instead, Poirot is completely unpredictable in his mannerisms, and thus, is a better character to watch. He's actually much more complex than you would think; despite his funny accent and tendency to reference his "little grey cells," there's a darkness to him that just isn't present in the protagonist of Marple. In The Movie Collection, Set 6 (out on DVD from Acorn Media July 12), Poirot is on top of his game.
Read: Blu-ray Review – Agatha Christie's Marple: Complete Series 5
The collection includes three feature-length mysteries starring the Belgian detective — it's essentially the twelfth series of Poirot, minus the mystery Murder on the Orient Express, which was released on Blu-ray last year. Included in this set are "Three Act Tragedy," "The Clocks," and "Hallowe'en Party."
The mysteries are all typical Christie affairs, with long build-ups to the ultimate reveals and explanations. "Three Act Tragedy" features some absolutely brilliant staging (literally) in the final scene of the episode. A lot of it's done for flash and style, but that doesn't matter; the show is charming enough.
Featuring guest stars such as Martin Shaw (George Gently) and Kate Ashfield (Shaun of the Dead), the show's pretty much everything you would expect it to be. The mysteries all play out in similar ways, with similar explanations, but they're the classics, aren't they? They're supposed to.
Order it on Amazon.