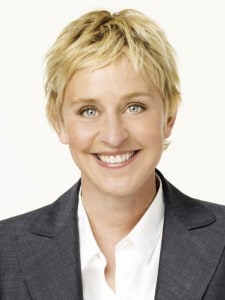 Ellen DeGeneres has pretty much made an empire out of her name. Using her wit and charm to disarm her haters, it seems she has less and less haters left, and almost everything anyone says about her is nice.So it is no surprise to us that she would be hosting the Oscars next year. She is quick on her feet, friendly with most celebrities, and seems to put them at ease, so why NOT pick her?
Well, there will always be hate mongers who don't want someone "different" being chosen, but I still think we need to round up all the ignorant in this world and god drop them off on an island so we don't have to deal with them anymore.To us at TV Overmind, this is great news. Ellen is honest, hilarious, and can rarely be caught off guard, so in essence, could there be a better fit right now? We think not. You know what we hope? We hope she does one of her scare cams, and really messes some celebs up. There are few things funnier than seeing someone get scared over some stupid prank Ellen pulls, Whether its fake spiders or who knows what, the woman has a gift for scaring people (believe it nor not) so we hope we see a whole bunch of that on Oscar night.
As many recall, Ellen hosted way back in 2007, and it seemed to be extremely well received, so it makes sense she is coming back, though we are frankly surprised she was not called back earlier. Let's be honest here, the last few Oscar shows have really lacked quite a bit of personality and charm, and those are two things Ellen DeGeneres will definitely bring when she hosts the shows next year. So stay tuned, and we weill fill you in with more details about all this as soon as we know anything.