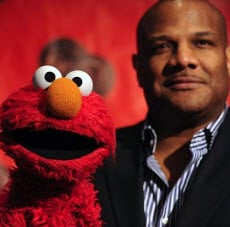 Kevin Clash has been the voice of Elmo since 1984 on Sesame Street, but the show didn't hesitate to cut him out when he was accused of something rather terrible.
The allegations are that when Clash was 45, he had a sexual relationship with a 16 year old boy. The boy, now 23, came forward about it, and has spoken with PBS. Clash has left Sesame Street until all this can be sorted out.
His side of the story? The relationship did happen, but it was between two consenting adults. "Consenting adults" is a loose term as some states it's 18 and some it's 16. Either way, someone 45 years old having a relationship with someone that young seems a bit strange and will likely upset many parents.
But what about Elmo? Well, PBS has already come out and said that "Elmo is bigger than any one person." I've heard enough Elmo impressions on YouTube to last a lifetime, so I imagine they could find a replacement if need be.
What do you think? Does Clash deserve this shame and embarrassment or is this really just a misunderstanding?