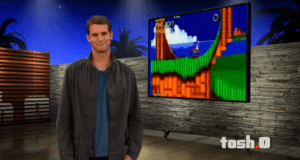 It all started innocuously enough. I would say initially, the real clip show was The Soup. And you know what? It birthed some pretty great actors and actresses and is still a pretty funny show. But it seemed to birth its own sub-genre of show. The show where people get together in a room and casually riff on trending internet clips, even though The Soup just riffs on TV. As far as Internet riffing, Tosh.0 claims to have done it first, but the problem is, it is never very funny, it is often quite disgusting, and now there are handfuls of shows doing the exact same shtick. So why doesn't it work?
Simple.
We ALL do the same things with our friends, yet our friends actually know what we like and know our sense of humor, so it always is a good time. What isn't fun is watching four other people having the fun YOU could be having doing the same thing. And the worst part? A great deal of these shows tend to try to find the most shocking clips they can. Anything from bone breaks to, well, I will leave it at that, but that is NOT a source of entertainment for most people. People want to laugh when they watch a comedy show. Not be appalled or disgusted.
And also, why are there so many of these shows now? From Ridiculousness, to even Shaquille O' Neil having his own version of one of these shows, what is the draw of that? I can't understand how this particular trend of TV has taken off.Then again, I don't get reality TV, and soap operas, and a great deal of other forms of TV that seem to do really well, so again, maybe that is why I am writing on a blog ABOUT shows, and not actually writing a show.
Makes sense now that I think about it.
Still though, these internet clip shows NEED to go. I know I can't be alone in thinking this.