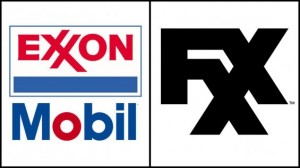 In what may amount to being pretty lame TV news, it seems the Exxon gas company is suing FXX for using two XX's in the title for their new network. Yes, I would not believe it myself had I not read it first on Uproxx, yet I did, and here we are. I pride myself on usually having something to witty to say about everything. Like, no matter the scenario, I will always  have some kind of witty quip to balance it all out, but in the case, I got nothing. I am dumbstruck.
Well, when I tell you that ACTUAL reason they are upset, you will be even MORE embarrassed. It is not just the fact that the FXX logo has two X's. It's the fact that the two X's are interlocked. This is what is driving Exxon crazy, claiming in the interlocking X's is a huge part of their logo and branding, and that FXX is set to mess all that up.
With all due respect to all parties involved, this might be the silliest thing we have ever heard.
Even for the worst of us, confusing a gas station with a TV station just doesn't seem possible. When FXX heard Exxon wanted them to change it, they pretty much laughed and got on with their lives. I guess we just have to sit back and wait to see how this insane story plays out.