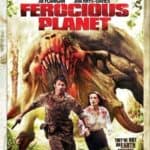 B-movie staple John Rhys-Davies briefly brings his British (um… southern) accent and holier than thou attitude to Ferocious Planet as an American Senator with an interest in otherworld dimensions in Saturday's Syfy classic-in-the-making. Sharing the screen as the reluctant, ornery and hotter than hell hero is Joe Flanigan. It's sure good to see him back in the realm of science fiction, where he fits so gloriously well.
As a team prepares to show of their inter-dimensional viewing machine, things go awry and they are transported to a place that looks a lot like a regular forest, but holds creatures and alien beings that have no desire to make friends with our erstwhile adventurers.
With lines like "Don't poke the alien" and scenes featuring a soldier trying to carry out his orders while sinking fast into a vat of quicksand (rescued via a human chain three people deep) you really cannot go wrong with Ferocious Planet as your choice of Saturday entertainment.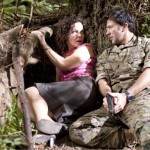 Featuring dimension popping doors (much like the current Matt Damon movie The Adjustment Bureau, but not nearly as boring), our stranded group can go in and out of their familiar space to try to stay out of harms way or venture out to find a way home. Luckily, the dimension transportation device is a water and ammonia run instrument, handy for your trek through the local prehistoric wooded area. No cords needed!
Happening upon a large pile of creature eggs, Poindexter (yes, a dorky male character is actually named Poindexter in this movie) stashes one in his pocket to take home so he can be on "Fox and Friends." Really. Given the name and the situation, I'm sure you can guess how it turns out. The whole script is filled with these nuggets, little slivers of golden moments to make you giggle and roll your eyes.
Few characters are beyond redemption, or so annoying y0u can't wait to see their demise, but that doesn't stop the steady drain of survivors at the mouths of the large, canine like creatures that populate the parallel dimension. With the way they hovered over and protected their eggs, I didn't want them to get hurt, so it wasn't a foregone conclusion that we were expected to dislike this other, different world. I liked that.
The movie didn't take itself too seriously, and didn't treat the adventure like a joke, either. It was like a mix of Journey to the Center of the Earth and Primeval. Another gold star for Syfy's original programming slate.
Most of all, I like Joe Flanigan and watching him in action just proves he needs to be helming his own series again. Syfy, please take note. To experience the thrills of another dimension, tune into Syfy this Saturday at 9:00 pm Eastern. You won't be sorry!
PS – Special shout out to Yare Jegbefume, who was kind enough to tweet the review, even though I didn't specifically name him. He was great as Rivers. Small cast, all immensely entertaining!!
[email protected]
@modwild
@tvovermind