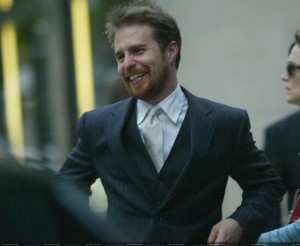 It is safe to say that Bryan Cranston forever changed the way we look at TV characters with his portrayal of Walter White. Science teacher gone bad. Every week we fell more in love with Cranston and his antics as the awesome antihero. This got us thinking, who are some other actors who deserve their own show? The actors we would love to see on the small screen, week after week. Though there was much debate at the office about this, these are the five choices we could all agree on.
Sam Rockwell
There is just something so cocksure about Sam Rockwell. The way he always wears a sly grin, like he is privy to some info none of us have gotten yet. I, personally, could imagine Rockwell as a 40′s noir detective. Make the show black and white, make the guy an alcoholic, and stand back and give him the time to shine.
Adrien Brody
There is just something intriguing about Adrien Brody. From his cartoonish looks, to his amazing acting ability, there is something undeniably compelling about him. How about we give him a heavy drama? Perhaps make him a writer tormented by the voices of past characters he has written and killed off? Pop it on Showtime or HBO so it can go to some dark places, and BAM, you have a recipe for a winner.
Robert Downey JR
Okay, I am about to blow your mind with how meta this will be. How about a show starring Robert Downey JR, ABOUT RDJ? He still looks young enough to play himself at a younger age, so how about we do a biopic show about his ten year run fighting his demons? Let's see Downey when he hit rock bottom, and then let's see him rise back up. You know EVERYONE would watch that show.
Sir Ian McKellen
Why is it that older people do not get their fair representation in pop culture? Ian McKellen is one of the coolest dudes ever, old or not, so why doesn't this man have a weekly place where he could flex his acting muscle? How about a period piece, perhaps set in the old west? Imagine Ian McKellen as a sheriff to a town that is trying to ease him out because he is old, but he is just way too cool and keeps beating them at their own game? I can already smell an Emmy.
Peter Dinklage
I know he already OWNS it as Tyrion Lannister on Game of Thrones, but I am saying HIS OWN SHOW. A show where he would be in pretty much every scene. I don't even care what it is. You can film him eating breakfast for all I care, but just give me more Dinklage!
Alright, your turn.
What actor do you think would shine on their own weekly show? Take to the comments and let us know!