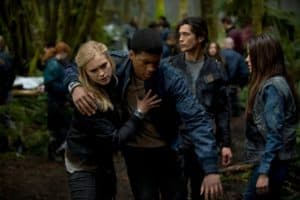 Between the supposed dud that is Dads, and the hype around Brooklyn Nine-Nine, it is hard to distinguish what other shows might be worth watching for the new TV season in 2013, so we decided to make a list for you of some shows we think may have some real potential. Please don't laugh at us if any of these end of being duds, that is just how TV works sometimes.
The 100
We know it is a CW show, and is filled with cool teens, so that makes it a little less appealing, but the idea of sending kids back to Earth to recolonize the planet after nuclear war ruined it seems like it may be a cool idea, and we are curious to see how it plays out.
Mob City
This TNT drama/show/miniseries by former Walking Dead front runner Frank Darabont has us truly intrigued. A period piece, crime-drama, and all with an amazing director at the helm, this could be THE show to beat this fall. Well, actually, December, when it finally gets released.
Marvel's Agents Of S.H.I.E.L.D
Come on, do you people actually think anything is going to be better than reuniting with Agent Coulson in a week or so when this show drops? While Mob City may take the most accolades away when the dust settles, this is the show we are MOST excited about.
The Birthday Boys
There is not enough cutting edge sketch comedy on TV anymore (thought Key and Peele are DEFINITELY representing and owning that market right now) and The Birthday Boys on IFC looks to change that. It looks more than a little insane, and with Mr. Show alum Bob Odenkirk on board, this might be the sleeper hit of the season.
Super Fun Night
Though the trailer DEFINITELY lacks the punch I was suspecting, I am a HUGE Rebel Wilson fan, and think that 22 minutes every week with her in any form will be a gift. This one looks like it might be "most likely to fail" of all the shows listed here, but we love Wilson, so we will be watching every week.
So what shows are YOU most looking forward to this new 2013 TV season?