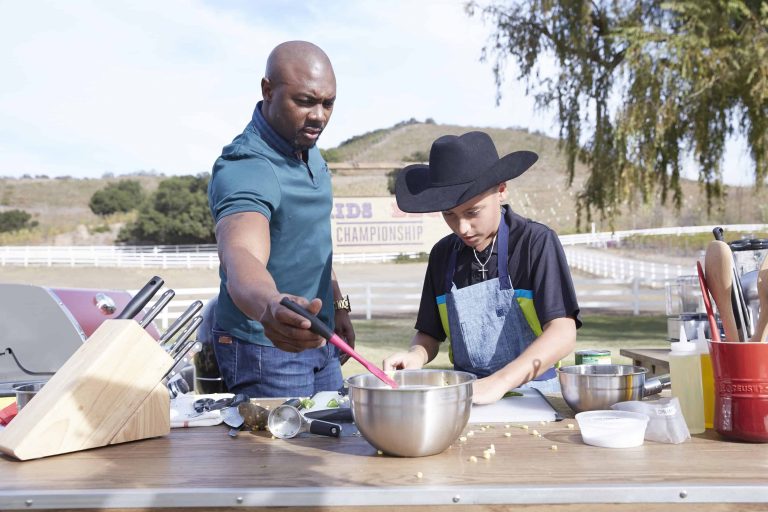 Kids BBQ Championship is one of the newest shows to hit the airwaves on the Food Network. Moving into season two the show has already gained a substantial following. In this reality competition, we get to watch as 8 of the countries top young BBQers cook it out in a series of challenges. At the end, the winner takes home a cash prize and a coveted feature in Food Network Magazine. If you're a fan of the Kids BBQ Championship, then we have something in store for you.
Here are five things you didn't know about the show.
1. Season 2 will introduce a new co-host
Eddie Jackson is back for season two of Kids BBQ Championship, but there will be a new co-host replacing Camila Alves. On this season Jackson will be joined by fellow "Food Network Star" winner Damaris Phillips. Phillips graduated from Jefferson Community and Technical College, where she earned a degree in Culinary Arts. In an interview, she revealed that she decided to attend culinary school because she "didn't know what to do in life." It seems like the decision worked out well for her. I'm excited to see what type of vibe she brings to season 2 of the show.
2. The shows former co-host Camila Alves is married to a Hollywood leading man that won a Golden Globe for best actor
There's no doubt that Matthew McConaughey is a Hollywood titan. He's appeared in such films as "A Time to Kill," "Amistad" and "The Wedding Planner." But did you also know that he's married to Camila Alves? It's true. The couple got married on Christmas Day 2011 and have three children
3. Although Camila Alves is no longer a host of Kids BBQ Championship, she has several other things to keep her busy
Hosting Kids BBQ Championship was fun while it lasted, but it's only one aspect of Camila's career. She also works as a fashion model and fashion designer. She also owns women's lifestyle site "Women of Today" and co-founded organic frozen baby food company "Yummy Spoonfuls" which is sold in Targets frozen food section. So although Camila won't be back as co-host of Kids BBQ Championship, she has plenty to occupy her time.
4. Co-host Eddie Jackson won four national titles as an All-American in Track and Field
Eddie Jackson is best known for being the winner of Food Network series "Food Network Star" and hosting The Kids BBQ Championship. But before that, he was a star athlete at the University of Arkansas where he played football and was a member of the Razorback track team. After college Jackson was drafted by the NFL's New England Patriots His football career never really took off due to injury. However, he still holds the freshman record for the 110 high hurdles at the University of Arkansas.
5. The show is a part of kids challenge TV boom
From Fox to Food Network cable and network TV channels are cashing in on child themed cooking shows. According to executives at these companies, kids cooking shows deliver viewers across many demographics both young and old, something that's unheard of in the television industry. Which makes these shows TV gold. Expect to see more of them pop up on your TV screen soon.
With all new child chefs this season and a new co-host Kids BBQ Championship is sure to have a different appeal than season one. I can't wait to see what happens. Make sure you tune in to follow the competition.