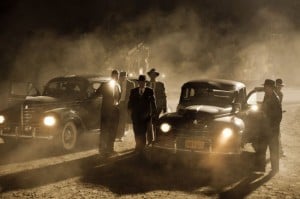 We really like Frank Darabont here at TV Overmind. He has done some great things with the Stephen King work has has adapted (extra points for reworking that The Mist ending from nothing to something amazing) and we liked his run on The Walking Dead, so you can imagine we are excited for his new TNT crime drama, Mob City. And though it has undergone a name change (which scared us a little, thinking that was not a good sign) the new trailer for the show has dropped and it looks amazing. Also, some surprise stars that might make you as excited for the show as we are.
Based off the John Buntin novel, "L.A Noir: The Struggle For The Soul Of America's Most Seductive City" , Mob City is about how the mafia, the FBI, and the police in Los Angeles were all so delicately intertwined in the 1940′s. It is an era all the world seems entranced by, and judging from the trailer, this show/mini-series will deliver the goods. Plus it has Shane from The Walking Dead, so that's a plus, too.
http://www.youtube.com/watch?v=sW-WF313Ljo
And ofcourse, Shane is still being Shane.
It looks gritty, realistic, violent, and come on, say it with me because we all know we are thinking it:
Awesome. It looks awesome.
And as if it couldn't look any better, Simon Pegg is in it, too. So safe to say, this will be THE SHOW to watch when it premiers December 4th of this year.