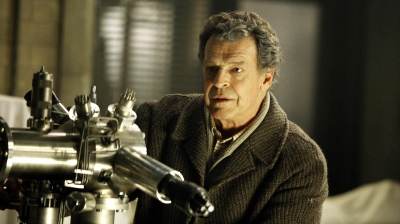 Fringe is undoubtedly one of the best shows running on network television, but if star John Noble's prediction is correct, it won't be running for much longer.
"When we first joined the show, J.J. Abrams said that he thought it was a six-year show, but that's like saying you're going to climb Mount Everest," Noble, who plays Walter Bishop in the series, told Allocine. "It's very hard to even [have a show] on, let alone to do six years."
Noble thinks that five years is a reasonable expectation for how long the show will run. "Six [seasons] is a very long time," he said. "But if we don't maintain the level of our production and our stories this year, then there won't be another year." Fringe is slated to begin filming for its fourth season next week.
Noble acknowledged that the show's survival would be tough, especially with the complex storyline that developed over the third season. "I think the fans have been amazing, but the bottom line of television is income," he said. "One of the issues with Fringe now is that you can't just turn it on and watch it. In the first season you could, because it was more procedural."
If the show can keep its ratings at least steady, though, even a shortened fifth season might be likely because it would allow the show to get the 100 episodes required for syndication. At the end of season four,  the series will have a total of 87 episodes. A thirteen episode half season for the fifth season could allow for the storyline to be wrapped up, and allow for the show to reach syndication. Sounds like a win-win to me.
Fringe will return on September 23 for its fourth season premiere.