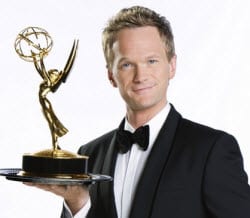 Last night was the biggest evening for TV all year, and we watched statue after statue be handed out to deserving winners all night long. It was a huge night for Breaking Bad with the show securing its first win as Best Drama, which is hard to believe. Bryan Cranston lost out to Jeff Daniels of The Newsroom, but Anna Gun won Best Supporting Actress.
Modern Family had its fourth win as best comedy, and Jim Parson walked away with yet another Best Actor statue. Also coming up big was Veep, with Julia Louis-Dreyfus walking way with Best Lead Comedy Actress and even Tony Hale secured Best Supporting Comedy Actor for playing her assistant.
Check out the entire list for yourself below, and chances are your favorite won something, as it was a diverse group of winners this year with Boardwalk Empire, Homeland, House of Cards and more also picking up wins. Game of Thrones, however, was shut out this year.
Drama Series: "Breaking Bad" (AMC)
Actor, Drama Series: Jeff Daniels, "The Newsroom (HBO)
Actress, Drama Series: Claire Danes, "Homeland" (Showtime)
Supporting Actor, Drama Series: Bobby Cannavale, "Boardwalk Empire" (HBO)
Supporting Actress, Drama Series: Anna Gunn, "Breaking Bad" (AMC)
Directing, Drama Series: David Fincher, "House of Cards" (Netflix)
Writing, Drama Series: Henry Bromell, "Homeland" (Showtime)
Comedy Series: "Modern Family" (ABC)
Lead Actor, Comedy Series: Jim Parsons, "The Big Bang Theory" (CBS)
Lead Actress, Comedy Series: Julia Louis-Dreyfus, "Veep," (HBO)
Supporting Actor, Comedy Series: Tony Hale, "Veep" (HBO)
Supporting Actress, Comedy Series: Merritt Wever, "Nurse Jackie" (Showtime)
Directing, Comedy Series: Gail Mancuso, "Modern Family" (ABC)
Writing, Comedy Series: Tina Fey and Tracey Wigfield, "30 Rock" (NBC)
Miniseries or Movie: "Behind the Candelabra" (HBO)
Lead Actor, Miniseries or Movie: Michael Douglas, "Behind the Candelabra" (HBO)
Lead Actress, Miniseries or Movie: Laura Linney, "The Big C: Hereafter" (Showtime)
Supporting Actor, Miniseries or Movie: James Cromwell, "American Horror Story: Asylum" (FX)
Supporting Actress, Miniseries or Movie: Ellen Burstyn, "Political Animals" (USA)
Directing, Miniseries or Movie: Steven Soderbergh, "Behind the Candelabra" (HBO)
Writing, Miniseries or Movie: Abi Morgan, "The Hour" (BBC America)
Reality-Competition Program: "The Voice" (NBC)
Variety Series: "The Colbert Report" (Comedy Central)
Writing, Variety Series: "The Colbert Report" (Comedy Central)
Directing, Variety Series: Don Roy King, "Saturday Night Live" (NBC)
Choreography: Derek Hough, "Dancing With the Stars" (ABC)