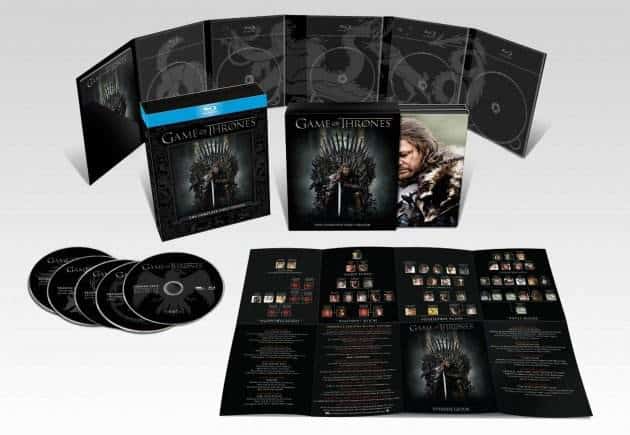 Game of Thrones is coming to DVD and Blu-ray in March. And while that is still quite a long way away, HBO has already unveiled the cover art for both the Blu-ray and DVD sets. As you probably expected, it looks awesome.
The set, which hits shelves on March 6 in the US, features five discs full of Game of Thrones, including, of course, all ten episodes from the show's first season. And while the DVD box art simply features that image of Ned Stark sitting on the Iron Throne, the Blu-ray cover art features an intricate pattern to frame it. The 'Episode Guide' insert also happens to feature family trees for some of the important houses, including House Stark, House Baratheon, House Lannister, and House Targaryen. You can check out an image of both packagings above, but there are also some special features to contend with.
The Blu-ray set will include a "Complete Guide to Westeros," the "Anatomy of an Episode," "In-Episode Guides," and something called "Hidden Dragon Eggs" (I have no idea what this is, but it sounds exciting).
Both sets will include "Making Game of Thrones," "Creating the Show Open" (whatever that means), "From the Book to the Screen," "Character Profiles," "The Night's Watch," "Creating the Dothraki Language," and audio commentaries from David Benioff, D.B. Weiss, George R.R. Martin, Emilie Clarke, Peter Dinklage, and Kit Harrington.
More details about these special features are slated to be released later. Want a closer look at the Game of Thrones packaging? Simply click over to the next page for a much larger look.
You can catch more Game of Thrones news here, including a glimpse at the making of season 2 and a look at the new cast members joining for the show's second season.
Game of Thrones season 2 will premiere on HBO in April 2012.