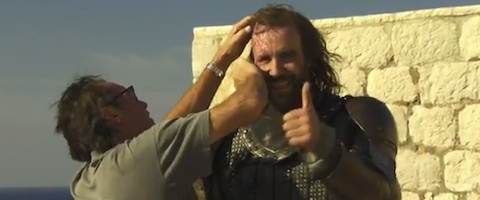 We're still a few long months from the premiere of Game of Thrones season 2, but HBO is keeping fans satiated with plenty of great sneak peeks. Back in September, we got the very simple "Night is Dark and Full of Terrors" trailer. A quick teaser video was released in November, while we finally got the first official season trailer with "The Cold Winds Are Rising" earlier this month. Now, we've gotten another sneak peek at season 2: this in the form of two behind-the-scenes set videos.
Winter-Is-Coming.net posted the first video below on Tuesday, featuring quite a major look at the new season. While there isn't anything too concrete, those who have read the book can pick up on quite a few characters revealed in the video.
We get quite a few more looks at Red Sorceress, Melisandre, riding on horseback alongside King Stannis and his right-hand man, Davos Seaworth. There are some glimpses at what could possibly be a Brienne of Tarth (in the background at 0:49), and even better, a look at Theon Greyjoy's religious uncle, Aeron Damphair, who many had feared to be cut from the season entirely. Thankfully, this video makes it obvious that this was not the case. Watch for yourself below:
The second video is a much simpler affair, talking about fighting scenes in the season. We get a lot of shots of some guards fighting people, and then we get a quick glimpse at Sandor "the Hound" Clegane (Rory McCann) on set, giving us a thumbs-up as his burn make-up is adjusted. Check that video out below:
Game of Thrones season 2 will premiere in April 2012. If this video is any indication of what's to come, we should definitely be excited for it.