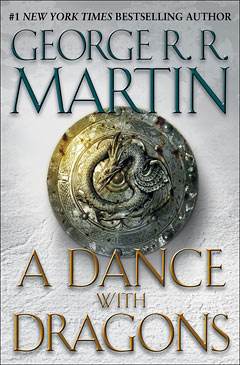 A shipping error with Amazon Germany has resulted in 180 copies of A Dance with Dragons being shipped early, with floods of spoilers hitting the web several days in advance of the book's July 12 release date.
It feels like Harry Potter all over again, doesn't it?
Game of Thrones Slide-Show: Season One's Most Shocking Moments
A Dance with Dragons is the fifth book in the series A Song of Ice and Fire by George R.R. Martin — the source material for the HBO fantasy drama Game of Thrones. The book, which has been in the making for six years, is highly anticipated by fans of the series who have been waiting for a new volume in the seven-part series since 2005′s A Feast for Crows.
The book will likely form the basis for seasons four and five of the HBO series, along with A Feast for Crows, since the timelines of the two books reportedly overlap.
Game of Thrones: Which Finale Scene Was Actually from the End of Book 2?
Spoilers are being posted all over Game of Thrones and A Song of Ice and Fire fansites by malicious posters looking to ruin the fun of others — especially since the Game of Thrones audience has lent a new profile to the book's release.
So be careful! There's no real way to dodge the spoilers except to avoid the internet in general, but choose which pages you visit carefully — the spoilers could be anywhere!
A Dance with Dragons will hit shelves on July 12. Look for TVOvermind's (spoiler-free) review of it soon afterward.
Pre-order it on Amazon.