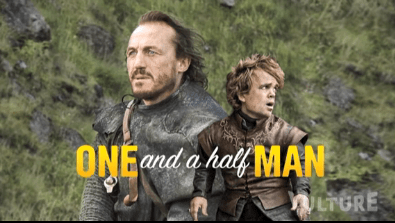 Every once in a while, you come across a viral video and wonder, 'Why didn't I think of that?'
That was exactly my reaction to the new video that New York Magazine's Vulture created. It's a brilliant mash-up of HBO's freshman series Game of Thrones and CBS's hit sitcom Two and a Half Men. Its title? One and a Half Man.
It stars the Game of Thrones characters Tyrion and Bronn. Tyrion is a highborn dwarf with a lot of money and quick wits; Bronn is the mercenary that Tyrion hires to protect him. They have an absolutely wonderful dynamic on the series, as highlighted in the drinking game scene from last week's episode "Baelor." It was a comedic scene and a serious scene at the same time, and perfectly highlighted them as potentially the best bromance on television.
The trailer plays more like one for a really bad comedy flick, which is what makes it so darned brilliant. It has all the hallmarks of those early 2000s trailers — a voiceover punctuated by dialogue from the characters, fast-paced jump cuts that narrowly dodge profanity, and that one last joke that finishes the trailer off (in this one's case, Tyrion's sarcastic retort to Bronn's advise to "stay low").
But the most laugh-out-loud part of the trailer seems almost to be an afterthought. It's well done all around. Check it out below.