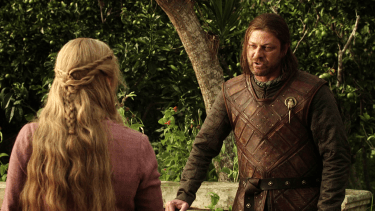 Memorial Day weekend is typically seen a drop in viewership pretty much across the board, right? This weekend was no different, with 21% of television viewers going off on Sunday night to have cookouts or whatever. Sounds like pretty much everything would have suffered from that, right? I mean, it was over one fifth of television viewership, gone! Everything must have taken a hit!
Not so. Game of Thrones, HBO's fantasy epic series, stayed about the same for the night.
The show had dipped in viewership last week with episode six, "A Golden Crown," strangely enough. But with "You Win or You Die," which had the double whammy of being offered early for HBO Go users and airing on a holiday, viewership remained at 2.4 million for the first showing, with 3.2 million for the night when you factored in the repeat immediately after.
So why didn't Game of Thrones fail? My guess is that it's just a solid show with a huge fanbase that all wouldn't let a few silly little cookouts bother them when it came to watching their show. I know I didn't let the holiday stop me, that's for sure. Makes you wonder how Doctor Who would have faired the previous night… But that's another story entirely.
Game of Thrones returns Sunday night with episode eight, "The Pointy End," at 9/8c on HBO.