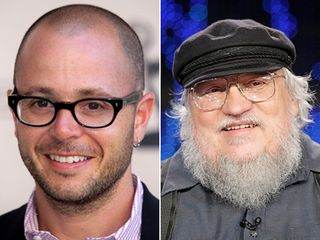 No less than literary icon George R. R. Martin has reignited the debate over LOST's controversial ending. Martin made the comment that when it comes to ending his Game of Thrones series he doesn't want to, quote, "do a LOST." Ouch. LOST co-creator Damon Lindelof responded with a volley of strikes from his Twitter account that did everything from insulting the length between volumes in the Game of Thrones series, to ridiculing the oddly lavender design of Martin's less than cutting edge website. Declaring the situation a 'feud' Lindelof took exception to the idea of LOST's ending becoming the symbol for all things f'd up.
The initial burst of tweets were obviously from the heart, but when Lindelof was approached by EW to discuss the matter further his media training kicked in, and it wasn't long before the LOST show-runner was lavishing Martin with praise, and offering a more cool-headed perspective on his earlier blowup. "When he uses phrases like '[messing] up the ending' or 'I felt like someone dropped a turd on my doorstep,' you know: Look, 'Lost' is my baby, and you don't put baby in a corner. I feel duty-bound, just for my own sense of integrity, to respond publicly."
Without judging the man, it is obvious that Damon Lindelof is the kind of guy who is very reactive – perhaps to his own peril. Many creators handle public criticism in a very pragmatic way: it's a guarantee that some people will hate your work. If you are a writer, painter, musician, or even a blogger, preparing to show your work for public consumption you must be at peace with the idea that there are going to be people who will love it, like it, tolerate it grudgingly, or absolutely loathe it.
George Lucas is perhaps the best example of a heartfelt creator who gets it right. Long before Lucas was nearly crucified for Jar Jar Binks, Star Wars fans were prepared to lynch him for 'muppeting-up' Return of the Jedi. His commercial and creative decisions have made Lucas a divisive figure in the immense franchise he, himself, created. For all of this, though, Lucas exhibits a zen-like perspective of his critics. After Jon Stewart skewered Lucas on air about several plot-holes in the Star Wars series in a 2010 interview, the talk show host specifically addressed the love-hate relationship he endures amongst fans, to which the director answered, calmly, "life is duality." Pressing Lucas further, Stewart asked Lucas if he felt he needed to answer his critics. Lucas replied "It's a work of fiction, it's a metaphor, it's not real, and therefore you can either like it, or not like it. Whatever."
BIG FAT CORRECTION
In an earlier version of this, I used a quote from the LA Times Blog that referenced Lindelof as saying that he and Carlton felt the finale of LOST was empirically brilliant – a statement I figured was a bit too self assured. As it turns out, the quote came from EW and was not used in the proper context at the LA Times. Damon was referring to his reaction to The Sapranos finale and how both he and Carlton thought IT was brilliant, and were worried after the fandom responded negatively. LA Times, and myself, both attributed those statements to Damon's opinion on the LOST finale. This is NOT correct. SORRY! Your turn, LA Times.