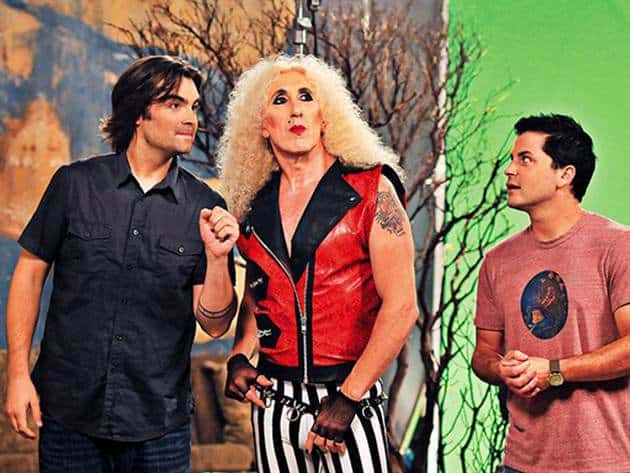 The first official trailer for upcoming FEARnet original comedy series Holliston has been released and it looks like a bloody good time. Previously described as "Wayne's World meets Saw", the show looks to combine pop culture references, horror-level gore, and a central buddy relationship, all put in a sitcom context. (Creator Adam Green referred to it as "Friends with slit throats".)
Holliston will become FEARnet's first original series, joining the previously acquired likes of Todd & the Book of Pure Evil from Canada's Space Channel and BBC Two's award-winning Psychoville.
From the minds of Adam Green (Hatchet) and Joe Lynch (Knights of Badassdom), Holliston follows Adam (Green) and Joe (Lynch), two movie buffs with their own late night cable access series. Recently graduated from college, the two are also aspiring filmmakers looking to get out of their humdrum small town and into a larger city where they can make it big. Joining Green and Lynch in the cast are Laura Ortiz (The Hills Have Eyes) as Joe's girlfriend Laura and Corri English (Unrest) as Adam's ex Corri. Twisted Sister frontman Dee Snider as Adam and Joe's boss Lance and Gwar frontman Dave Brockie as Adam's imaginary alien friend/life coach Oderus Urungus round things out.
Holliston premieres its first of six episodes Tuesday, April 3rd at 10:30 on FEARnet. To request FEARnet from your cable company, you can call 877-FEAR-247.