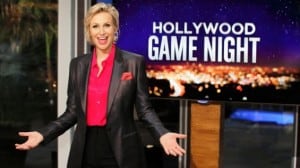 I had made some predictions about the surprise NBC hit, Hollywood Game Night, before the show even came on. I said it would mindless fun to watch celebrities get drunk and try to play strange, silly games with other potentially drunk celebrities. And apparently, I am not the only one who thinks this, because Hollywood Game Night has just announced that they have been renewed for season two. So anyone who appreciates The Jane Lynch run show will soon have more to look forward to.
What is really interesting about the show is if you know anything about psychology or the ego, it is fun to watch and sort of dissect the actor or actress who is on. Are they yelling out stupid stuff a lot? Do they seem to be motioning a lot of adding too many comments? Or what about the other extreme? The normally reserved star who suddenly seems to come to life in that scenario. You can tell which stars go on to play a game and have some fun, and which ones are clearly going on to plug the movie or further their own fame. And it is a nice dynamic you only get to see because the show takes place in a home-like environment, there is booze, and most of the people are friends, so it is nice to see them drop their guard for a second and show us another side of them.
And truth be told, the guests are pretty solid, too. From Aubrey Plaza to Jason Sudekis, there is no lack of talent on the show. You add booze and some Win, Lose, Or Draw type components and you can see why this show is coming back.