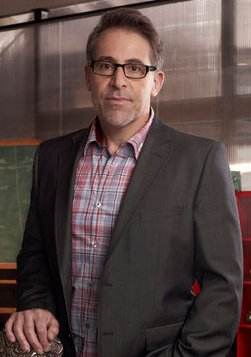 In handling the sales of Dorothy's Ruby Red Slippers from The Wizard of Oz, Elvis' guitar, hand-written lyrics by John Lennon, the archive for Alex Haley's Roots or auctioning Trinity's catsuit from The Matrix, collectibles expert Joe Maddalena is undeniably tied to pop-culture history like no other. Owner and operator of Profiles in History, Joe is the world's preeminent auctioneer-collector of original props, costumes and memorabilia from the entertainment industry as well as the star of Syfy's hit reality series (about his business), Hollywood Treasure, debuting its second season tonight.
Last season viewers traveled with Joe and his crew as they reunited Chitty Chitty Bang Bang with Dick Van Dyke at The Tonight Show, found and sold The Wicked Witch of the West's hat, auctioned the estate of screen legend Debbie Reynolds and inarguably helped extend life for numerous seniors selling cherished collections to pay medical bills. Season Two, kicking-off tonight, unveils a new hour-long format and promises to showcase items like an original map of Middle-earth by Tolkein, Whitney Houston's costume from The Bodyguard, all of District 12 from The Hunger Games, props from drama series Lost, the house from American Horror Story, famed Dodge Charger "The General Lee," the original camera George Lucas used to shoot Star Wars and Joe's personal 'Holy Grail', the lost pair of Ruby Slippers worn by Judy Garland, which he calls "the most iconic prop in the world."
Last week I spoke with Maddalena and asked him if he had a favorite step in the process of seeing rare items through to sale? I guessed his answer would be the intense auctions he plans and bids in for online customers, as opposed to the earlier, often arduous steps of locating, acquiring then authenticating the pieces, however, he unexpectedly answered "the exact reverse." Explaining, "For me, it's all about acquiring the piece. I live, sleep, eat, drink, and my little heart goes pitter patter for the hunt. I can't tell you how exciting it is when you find something, dig in and learn about the history behind it – that's what gets me up in the morning." Regarding the fevered auctions he curates and bids in? "By then, I've spent enough time with each piece that I'm ready to move onto what new (item) I can find today."
When Maddalena first started his prop auction business his dad advised, "Acquire a taste for what you personally like and always buy what you like, not what you think anybody else likes. Predicting others' likes can be a trap." Now, when examining a piece, Joe divulged, "I consider what it does for me; if I get really excited about it I assume others will too."
His renowned success has led to a few common questions heard more than most, "Where do you get this stuff?" "Where do you find it?" and "How do you authenticate it?" He hopes Hollywood Treasure provides the answer. "I really want people to understand that the show's real, this is really what we do. We're trying to answer those questions while accurately giving viewers a look into the business in a way they'll hopefully enjoy."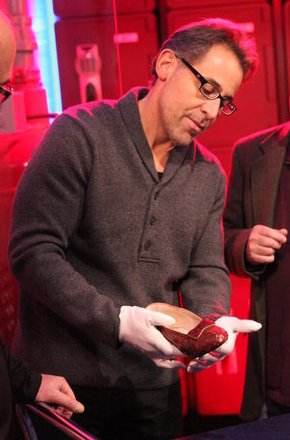 Joe's latest ambition has been the pursuit of 'prop' properties. He confides, "As a company, we're trying to expand our reach into all things (having) to do with television and motion pictures." Beyond the 17,000 square foot mansion that serves as American Horror Story's primary location, he's also proud to've helped sell the shooting set of The Hunger Games' infamous District 12. "One day I was perusing the Internet and saw District 12 was for sale. I was like, "How – what do you mean it's for sale?" I was extraordinarily intrigued and wanted to be involved. Indeed, it's a town, an actual town. I made a few calls and learned it's a 72-acre parcel where Katniss'house is, Peeta's bakery… it's all there. They shot everything on this location in North Carolina. All the structures and all the rooms of District 12 are really there. It was unbelievable. It's sort of like me having Dorothy's house that dropped on the Wicked Witch. So we went to North Carolina and worked a deal to sell this property and we found some amazing behind the scenes pieces from the film as well. It's going to be a great episode if you're into The Hunger Games." Adding, "You can move it, or, it could be a tourism place like a theme park. But the fact is it's a 72-acre town and not even very expensive."
Fans of creature features and horror makeup will be treated this season to segments on Dracula, Planet of the Apes and the noteworthy sale of Face-Off judge Ve Neill's own makeup collection.
Don't miss tonight's hour-long Hollywood Treasure premiere with Joe and his crack team (Brian Chanes, Jonathan Mankuta and the eternally effervescent Tracy McCall) featuring guest Sean Astin revisitng Middle-earth at 10/9c, only on Syfy. Screen the preview clip (below), consider following Profiles in History on twitter, and check out their selection of cool wallpapers here.