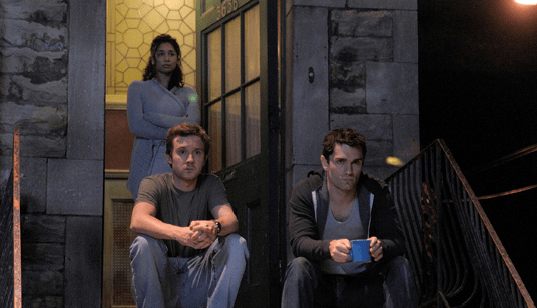 There have been a lot of across-the-pond remakes in television (The Office and Life on Mars, for example), and Being Human is the latest show to join those ranks. But the creator and stars of the show are making sure that their version (which premieres on SyFy on Monday, January 17) isn't perceived as just being a remake. Star Mark Pellegrino, who plays the vampire Bishop in the series, recently stated that he understands how fans of the original are feeling toward the upcoming remake. "I was one of those British version of The Office guys and I was so upset [with the NBC version], even though Ricky Gervais was in on the creative process," he said. "I understand completely."
"[It] will probably be hard for the people who have preconceived notions based on the BBC version, but… [the remake is] just as good in its own way."
Sam Huntington, who plays the werewolf Josh on the show, has likewise stated that the stars of the show intentionally avoiding being emulations of their British counterparts. "We were all instructed to not watch too much of the BBC series because they didn't want it to affect our performance," he admitted. "Our show tonally is very different. The look of the show is different. We branch out and dive into the back-stories of the characters a lot more."
"I would say if you're a fan of the original, you're going to see a show that starts much in the same way," said the remake's executive producer, Anna Fricke to Zap2It. "We explore these moments and what the characters experienced in the British version and say to the writers, 'What if we do this differently?'" Fricke also clarified that the producers of the show made a point not to watch the show's second season, so as to avoid being influenced.
Perhaps star Meaghan Rath put it best: "We're not… trying to replace what their show is. But we're doing a version that… brings something fresh and original to the show that's already going on and is amazing. I just hope that [the fans] know that we completely respect and admire everything that the British show is."
Being Human premieres Monday, January 17, on SyFy in the U.S. and Space in Canada. Check out my review of the first three episodes here.