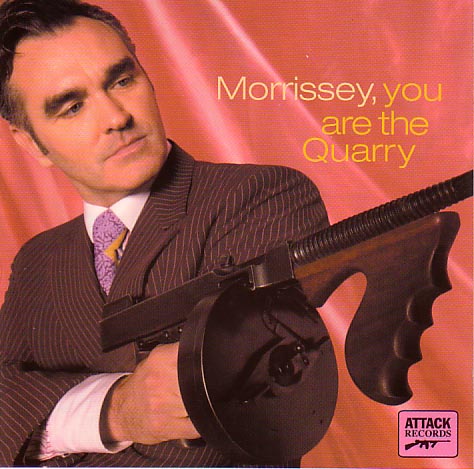 Pop rock Prince and militant Peta activist Morrissey might be regretting pulling out of his Jimmy Kimmel appearance due to the appearance of the Duck Dynasty gang.  Turns out his attempt to throw water on their PR fire just wound up giving the show a huge boost, resulting in record ratings.
The third season of A&E's hunting slanted Duck Dynasty premiered last night to a whopping 8.6 million viewers, that's not only huge for the show it's huge for cable period.   For A&E's universe, it wound up being the cable channels most watch telecast in history.  In the overall sense, Duck Dynasty arrived as the number one Cable reality show airing so far this year. 
In terms of the lucrative 18-49 year old viewer demo that advertisers love so much, Duck Dynasty had a 4.0 rating edging out American Idol and Modern Family in the nationals, scoring the highest concentration in that demographic for the entire night.
The lift most definitely benefited from the buzz worthy words of British singer and animal rights activist Morrissey who was due to appear on the February 26th episode of Jimmy Kimmel Live, but pulled out when he found out the Duck Dynasty crew would be appearing the same night.  Morrissey cancelled in protest referring to the crew of Duck Dynasty as "Animal serial killers," a charge with the right amount of comic hyperbole to go viral.  Odds are, you've probably heard about it already.
For his part, Kimmel took the situation in comedic stride in the opening monologue stating that "While I respect his stance on this, I really do, there's a very good reason why I didn't dump the Duck Dynasty guys for Morrissey. And that's because they have guns."  Following the monologue with a parody video featuring a Duck Dynasty for vegans.
Morrissey couldn't let sleeping dogs lay and decided to amp up his histrionics even further, responding to Kimmel's monologue by stating that the host had "found time to jokingly promote gun-ownership — hugely amusing for the parents at Sandy Hook, no doubt. He also promoted his special guests Duck Dynasty – who kill beings for fun. None of the above issues are, of course, as important as Jimmy Kimmel himself, who has finally revealed his show to have an overwhelming loss of meaning. Tune in and relive the intellectual fog of the 1950s."
Kimmel responded himself by tweeting "Note to Morrissey — if you have more dumb statements to make, I invite you to make them where I do, on my show."  In the tweet was a link to the cover of Morrissey's 2004 album "You Are the Quarry" which illustrates the singer dressed as a 1930s gangster grasping a Tommy Gun with one hand.
It might seem logical to assume that as soon as Morrissey stops flapping about this the Duck Dynasty ratings will return to normal, but that probably won't be the case.  The series has been posting unexpected statistics well before Morrissey's accusations.  Research showed that in 2012, Duck Dynasty was the television show mentioned most on Facebook.  Quack. Quack.