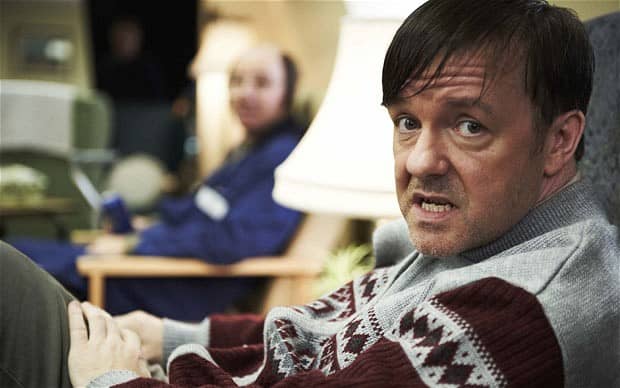 When I first heard about Ricky Gervais's new show Derek, I wasn't quite sure what to think. From the preview, it seemed that he played a mentally deficient (or at least very dim) worker at an old folks' home, surrounded by idiot friends.
"Has he finally crossed that line?" I wondered as it seemed like Gervais was finally being too offensive to tolerate. He's always been about snark and sarcasm, but could he really have a show devoted to making fun of the disabled?
Then I watched the pilot.
As it turns out, it seems that Derek is something of a redemption for Gervais. We know him best for roles in The Office and Extras, where he plays a pompous jerk that may be a touch goodhearted, but only 5% of the time.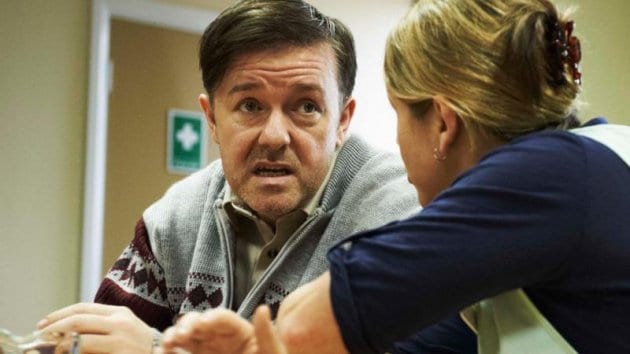 Derek? He's pure of heart absolutely 100% of the time he's onscreen. It's really the entire premise of the show. Yes, he's dim, and that's used for comedic effect, but it's never mean-spirited and Derek as a show and a character somehow manages to feel like the most innocent thing on TV.
I have to wonder what inspired this "road to Damascus" moment for Gervais. Was he simply tired of always playing the guy everyone hates? I can't really blame him for wanting to take on a character that everyone can't help but love.
And the show is good, too. It balances heartwarming and funny in a way that you might not think possible, and the pilot is a must-see for anyone who has been following Gervais's work over the years. I think it's the most drastic transformation for nearly any comedian I've seen.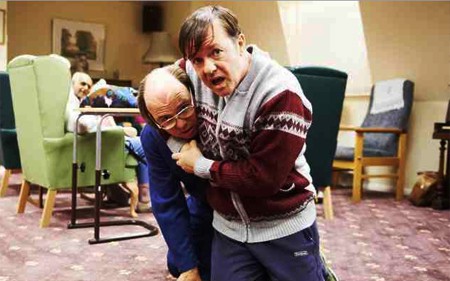 How will the show work as well, a show? It seemed ripe for the half hour special it original appeared to be, but you might wonder how they're going to stretch it into a full series. After all, there isn't too terribly much exciting that happens within the walls of a nursing home. And how many times can an old person who Derek likes die and everyone is sad? It already happened in the pilot, but given the nature of the location, that seems like it might happen quite often.
In any case, this is a rather fascinating experiment by Gervais to change the perception of his "brand" from snarky British douche to a nice guy trying to make a hero out of an unlikely character. Not to say being a snarky British douche didn't make for great television, but I like seeing actors go outside their comfort zone.
I believe the second episode of Derek airs tonight, but you can catch up on the pilot which aired quite a long time ago online here if you like:
http://www.youtube.com/watch?v=L6kK5V9IVGs