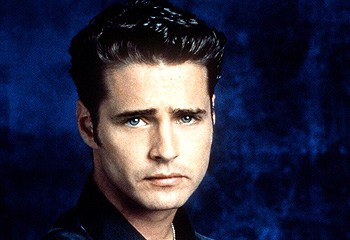 While it's been quite some time since Beverly Hills 90210 has been on television there are still legions of fans who watch reruns and would love to know what went on behind the scenes.  At least that's what HarperCollins is counting on.   According to THR, HarperCollins has acquired Jason Priestley's memoir with their division Imprint HarperOne. It is slated to be published in Spring 2014.
"Although I've only been on the planet for 44 years, I've lived a lot in that time," Priestley said. "I hope my story will enlighten, entertain, and inspire those who read it."
We're not 100% sure about the inspiration part though we're sure there's some juicy nuggets in this book.  Then again many of the stars of the show were dealing with a ton of issues during it's tenure so it's possible people might be inspired here.
Priestly got a 6 figure advance for the book and it's said to be mainly about his time as character Brandon Walsh.  There's also going to be information shared about his rift with Aaron Spelling, Priestley's 2002 car crash and his time in jail for driving drunk.
Mr. Priestley is currently starring in a Canadian television show called, "Call me Fitz." So who out there is gonna buy this book?  Any takers?