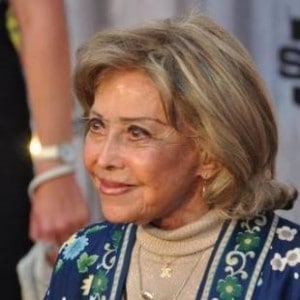 You know, there are certain people you should learn to associate with every modern thing you love. One of those people is a woman named June Foray. While the name might not right any immediate bells, it should, and that is why we are here. June was the voice of Rocky, the flying squirrel, on The Rocky and Bullwinkle show. And from The Simpsons to Adventure Time, if there is a modern cartoon you love, you owe June some props for paving the way for female voice over actresses. And it seems she finally getting her dues in the industry.
So the TV Academy is set to bestow the Governor's Award mid September to June Foray for her many, many contributions to cartoons and voice over in the last fifty years. Yes, that's right, we said fifty years. For longer than most of our readers have been alive, June has been going into the voice over booth and adding depth and dimension to some of our favorite classic cartoons. And the reality is, voice over actors and actresses do not get their dues, when in reality, they give us some of the most unforgettable performances any of us will ever see (or hear). Characters we will ALWAYS remember.
And what you need to know is June Foray was doing this from a time when women were not even allowed to vote. A time when women were looked at as less than men, yet she still had the courage to go in there a do a job a man would normally do, and not only do that, but do it better than any man.
To see the real impact June Foray has had, one needs to look no further than The Simpsons. Bart Simpson is voiced by a female, and that would never be the case had June not been brave enough to do it first and set the tone. And the Governor's Award ensures she will never, ever be forgotten, which is just what this legend deserves. Read the full story here at IMDB.