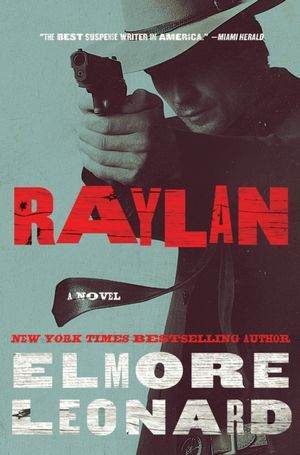 Raylan Givens is back in two ways on January 17. He's back on the small screen in the third season premiere of FX's Justified. But he's also back as the star of the book Raylan, a new novel by famed writer Elmore Leonard, who created the character back in 1993.
Raylan is the victim of its own interesting conundrum. Leonard created Givens initially, but here ends up borrowing heavily from the FX series' second season (either that, or they borrowed from his unpublished manuscript). Characters like Dickie, Coover, and Loretta are re-created for the page. Some, like Loretta, are faithfully transitioned (Loretta introduces herself to Raylan with the exact same line she did in the series), while others, like Dickie, aren't too similar at all (in Raylan, Dickie's an Elvis memorabilia enthusiast). This leaves a strange feeling of deja vu permeating throughout the entire book, though in the end, it's more interesting than exhausting to see how Leonard reimagines the show's characters.
The book is essentially a collection of short stories put together as a novel. Raylan deals with three bad guys: two kidney thieves who dress up like Barack and Michelle Obama; Carol Conlan, the coal-mine executive from season 2; and a poker-playing college student. It's a little disjointed at times, but essentially it's just like watching three episodes in a row.
Leonard's writing style has a large disregard for grammar and punctuation, though not necessarily to the extent of, say, Cormac McCarthy. Raylan is written conversationally (sentence fragments and run-on sentences are liberally used), but it only adds to the rustic nature of the book. It's tough to get a hang of Elmore's style if you're unused to it, but soon it begins to feel entirely natural.
And, finally, here's the real reason a lot of you will want to buy the book: there are plenty of clues as to what's coming up in season 3 of Justified scattered throughout Raylan. An entire conversation from the book is played out, word-for-word, in an episode of season 3. There's also another major element that makes the jump from book to screen, but you'll just have to figure out which one that is on your own.
Raylan hits bookshelves on January 17. Check out the season three premiere of Justified on FX that same night.