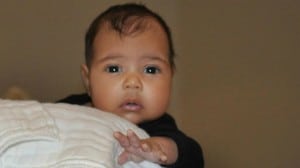 When famous people have babies, all the world goes crazy. I don't know why, but that is how it is. At first it was Jay Z and Beyonce's baby that got the world all crazy, Ivy Blue. And then, following in those footsteps, Kanye West decided it was time for him to have a baby with Kim Kardashian. And a month or so ago, they had that baby, named it Northwest, and everyone was waiting to see when they would reveal it to the public, but the best of us knew it would be on Kim's Mom's show, which is exactly what happened.
So baby Northwest was revealed on the Kris show, and, well, it looked EXACTLY like a baby that Kim and Kanye West would have. Seems to have Kanye's jowls and Kim's skin color and eyes. It looks pretty much like a baby, and why people get so excited about this I will never know. But Kris Jenner was smart snatching up the debut of Northwest, because it caused the ratings of her floundering talk show to suddenly sky rocket, most likely ensuring her another season.
I think the weirdest part of the whole Kanye interview is just how normal he seems. I know that sounds mean, but we are taught he has a God complex and acts like a jerk and is larger than life, but truth be told, he just seemed like a proud Dad showing off his kid for the first time.
Thing is, he was showing it off on a TV show that is run by Kim Kardashian's Mom, so that pretty much sums up just how humble that act really was. And regarding Northwest, good luck, kid. You are probably going to need it.