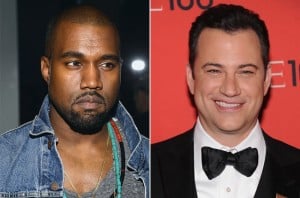 As I am sure many of you know, Kanye West has recently had some not-nice things to say about late night talk show host, Jimmy Kimmel. It seems Kimmel did a skit about Kanye West and Kanye was none too pleased with it. The outspoken rapper immediately took to Twitter and let the host know that he had angered the mighty Kanye. Kimmel responded to this with jokes, as any late night host would. This seemed to just get Kanye madder and madder. Well, according to Rolling Stone, the two will be meeting up tomorrow night on Kimmel's show to patch things up. Or to perpetuate things further, we don't yet.
The truth is, people are suspicious of Jimmy Kimmel now.
Why?
After he released that fake twerking video people now think he is some viral mastermind who knows how to manipulate the masses. Perhaps this was all setup to get Kanye West on the show and bring in ratings. The problem once you have pranked all of pop culture is, they don't trust you again. This could really be Kanye West going on Jimmy Kimmel to confront him. But this could also be another elaborate prank. We really have no idea at this point.
I guess it was a genius move because either way I will definitely be tuning in tomorrow to see how that all plays out. Safe to say you will be too.