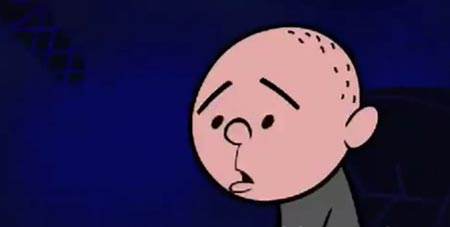 This is a question I didn't know I had, but was glad to have discovered the answer to.
For those of you unfamiliar with the perfectly round head of Karl Pilkington, he's the star of Science Channel's travel series An Idiot Abroad, which sees him being sent out to various locations by Ricky Gervais and Stephen Merchant, two of his friends. Karl's lack of culture makes every trip simply hilarious.
Karl got his start on podcasts alongside Gervais and Merchant back during the early part of the 2000s, when they met him during his job as a radio producer and found him so entertaining that Gervais vowed to make him famous. That he has done; in addition to An Idiot Abroad, Pilkington is featured on HBO's The Ricky Gervais Show as a co-host, alongside Gervais and Merchant. Pilkington's often bizarre musings form the backbone of the show, along with the ridicule heaped upon him by his two co-hosts. It's all in good naturedness; the three of them all really get along well, despite Gervais's R-rated insults toward Pilkington.
But which episode of The Ricky Gervais Show is Karl's favorite? You might think that's like asking a schoolboy which wedgie he's received is his favorite. Not so with Karl, though; he has a favorite, Ricky Gervais revealed through his blog: the episode in which he talks about the benefits of not having a Sat Nav (a GPS for Americans).
You can check out the footage of the episode below. The Ricky Gervais Show will return to HBO for its third season next year.