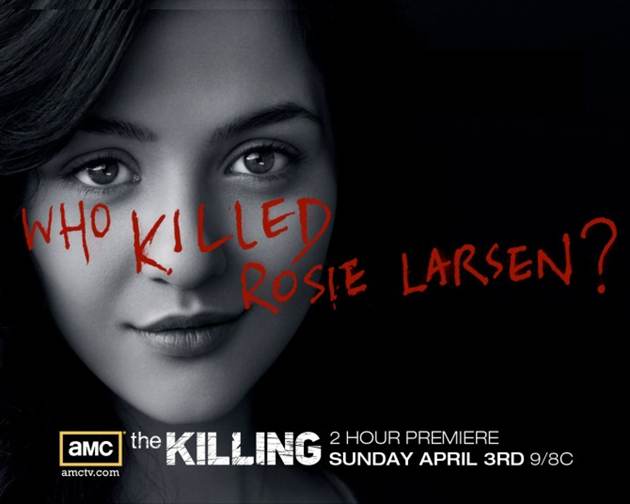 The Killing had a pretty gripping storyline for its freshman season, which came to a close on Sunday night. Sure, it got a little sludgy near the middle, but it got through it and broke into a run for a fantastic finish. The series, which was recently renewed for a second season, however, did something unexpected: it didn't solve the mystery of who killed Rosie Larson.
The case, which consumed all of the first season, was expected by many to be solved in the finale. Instead, all the finale supplied us with was more twists — albeit, deliciously shocking twists. One of those? That Linden's partner Holder turned in false evidence against Seattle mayoral candidate Darren Richmond. While that'll certainly have repercussions into the next season, there's something else that fans are probably more concerned about: just when are we going to found out who killed Rosie?
The answer you seek lies with The Killing's showrunner Veena Sud… and she's sharing!
Talking to TV Guide, Sud revealed that she did have a plan for revealing who killed Rosie, and it would happen soon: "Rosie's case will absolutely continue into Season 2," she said. "The murderer will be revealed in Season 2 and there will also be a new case introduced."
One thing Sud did emphasize, both in that interview and one with TVLine, was that the show was going out of its way to dodge 'formulas.'
"There were a lot of discussions about, 'We're definitely not going to do the 45-minute procedural,'" Sud told TVLine. "Then we stepped back and said, 'Should we do a murder a season? But is that not creating yet another formula, and yet another expectation, and yet another way to put a bow on a gift and wrap it up really easily?' So then we very organically [determined that Rosie's story] still had other possibilities after 13 hours, after 13 days, so that's where we went. It was risky, it was brave, it was bold – that's what AMC is known for."
The Killing has been renewed for a second season, which will likely premiere on AMC in 2012.