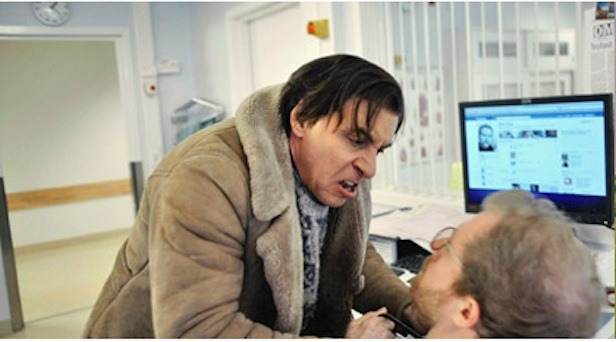 The 1994 Winter Olympics in Lilyhammer, Norway went down in history as the first showdown between figure skaters Nancy Kerrigan and Tanya Harding following the clubbing heard 'round the world. It brought a type of tabloid-ready juiciness to a typically stately event, culminating in "good girl" Kerrigan taking home the silver medal despite her Gilloly-inflected injuries. Some 18 years later, Lilyhammer is getting the pop culture spotlight once again, though this time for fictional violence as opposed to real life criminality.
Netflix has released the trailer for Lilyhammer, its first original scripted series to make its debut. In the eight episode drama, starring series co-writer Steve van Zant (The Sopranos), we meet Frank Tagliano, a state's witness in a mob trial who is forced to relocate for his own safety. The place he chooses to begin his next life? You guessed it, Lilyhammer, where Tagliano has to adjust to life in the snow. Once the cock of the walk on the New York streets, the former gangster needs to figure out a way to gain money, power, and respect while going unnoticed by his neighbor, the chief of police. Lilyhammer also features Trond Fausa Aurvaag (The Bothersome Man), Sven Nordin (The Sea), and Kyrre Hellum (The Liverpool Goalie), among others.
Lilyhammer makes its debut February 6th when all eight episodes become available. Netflix has been busy on acquiring original content, helping to resurrect Arrested Development and bringing Oscar winner Kevin Spacey into the world of TV. Should a majority of these do well, look for the company, still trying to recover from a landslide of poor PR in 2011, to add even more scripted shows to an already promising line-up.
Will you be checking out Lilyhammer when it premieres? If you don't currently have Netflix, does the trailer below make you want to get it to watch the show? What type of series do you think Netflix should try next?