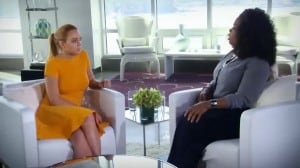 Seems like all the world was waiting patiently for the first interview Lindsay Lohan gave post-jail, and as we reported weeks ago, that interview was going to Oprah. Everyone was curious what (if anything) Lindsay might have learned from her stint in jail. Was she a reformed woman? Did she still intend to let her life spiral as she had been doing so carelessly before she did time? Well, the interview has happened and we roughly skimmed it with the intent of giving you some of the best details.
The first bomb that Lindsay Lohan dropped that everyone seems to be talking about is how she went to jail to find peace. Listen, we know "finding peace" is one of the hardest things to do in life, but going to jail to find it just seems a little extreme. That is like wrestling a bear because you wanted to get closer to nature.
Oprah then felt compelled to tell Lindsay Lohan she was an addict (for the "duh" of the year award) and Lindsay responded to this by telling Oprah that jail tapped her more into her spiritual side and implied that her drug use was way less than what the media has reported it as.
So ultimately, nothing here we couldn't have assumed without the interview.
Where is all the good Orange is the New Black type of stuff, like the big Russian cook who provides solace as a Mother figure? What about the creepy guard who was always being slimy? What about the cool roommate who is a wise old lady who schools you on life and love? Where was any of this?
Really, the interview revealed nothing remarkable, and considering Lindsay inked a million dollar deal out of this prison stay, interview, and subsequent reality show, I think it is safe to say it won't be long before we all see the Lindsay we're used to.
Sorry, but everyone's talking about this and no one is saying that, so I will.
Read (and see) the interview over at The Daily News.